THE BIONIC MAN BOUNCES BACK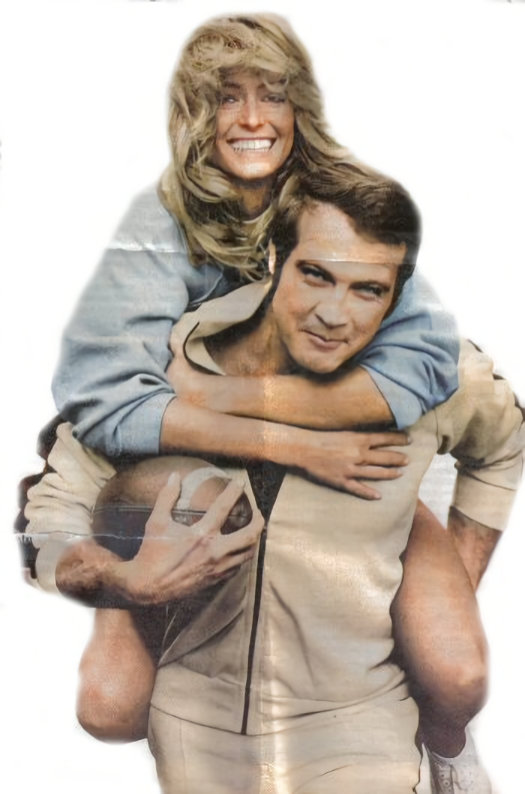 As The Six Million Dollar Man, LEE MAJORS was once TV's biggest star, and his beautiful wife Farrah Fawcett was on the original Charlie's Angels. But then she ran off with his best friend Ryan O'Neal – making one of the most volatile relationships in Hollywood – and Lee too to drink. Here, he tells LINA DAS why today he hardly recognises the girl he used to know.
Lee Majors was once TV's biggest male star. He became an international name in The Six Million Dollar Man and, by the time the show finished its run in more than 80 countries, by a happy coincidence $6 million was the fortune he'd made from it. His fame was cemented by his marriage to Charlie's Angels star Farrah Fawcett and, for a time, they were Hollywood's golden couple — 'We were the Brad Pitt and Jennifer Aniston of our day', he says. Unhappily, as with Pitt and Aniston, it all went wrong for Majors and Fawcett. She ran off with his best friend, Ryan O'Neal, causing a flurry of headlines and, for a time Majors was inconsolable.
Now he's 66, still taut and good-looking, although he con-fides that 'this old body is beginning to fall apart and I've been considering a knee replacement'. Fans of The Six Million Dol-lar Man best enjoyed the sequences where Majors ran in slow motion — not a camera trick, he now claims, but something he perfected for real. And, in the long term, it has taken its toll on his knee.
There was a time, during the bad days, when I would have needed a Bloody Mary just to talk to you,' he says. Perhaps with four marriages behind him and a career filled with highs and lows, there were rather too many bad days. 'Well, at least life hasn't been dull,' he grins.
When Majors met Fawcett in 1969, he was already starring in the TV series The Big Valley, while Fawcett, fresh off the bus from Texas, was an unknown. Majors had seen her photo at his agent's office, phoned the all-girls hotel where she was staying and left a message saying that Lee Majors was call-ing to take her to dinner. None too im-pressed by the brusqueness of her suitor, Fawcett met up with him nonetheless and both were smitten from that moment on.
'She was very different then,' says Majors, 'gorgeous, obviously, but very unsophisticated and naïve, too. She would walk down Hollywood Boulevard and say "Hi" to every-body because she was so friendly.'
The couple married in 1973 and, although Fawcett early on in her career famously proclaimed that she would get home by 6.30pm every evening, so that she could 'have dinner ready' for her husband, when she eventually secured the role in Charlie's Angels, she found it increasing-ly difficult to fulfil that task once the show became such a huge hit. 'When both our careers were going really well,' says Majors, 'there was a point when we saw each other for a total of just two weeks in an entire year. There's no way a marriage can survive when you're apart for that length of time and, when we did get together, it was impossible just to go out and have a quiet dinner because the paparazzi would descend on us. That kind of thing puts pres-sure on a couple, too.'
As it transpired, Majors unwittingly helped bring about the demise of his marriage when he and O'Neal, long -time friends, were both filming in Canada. When O'Neal returned to Los Angeles earlier than his friend, Majors asked him to look after Fawcett, unaware that O'Neal was to look after her just a bit too much. By the time Majors returned, his wife and best friend were in love and, although Majors asked him to back off, O'Neal admitted that he couldn't.
Majors says now, 'I don't blame him because it would have probably happened anyway, because Farrah and I were separated for such long periods of time; if anything it was down to Farrah. But there's no malice there, although Ryan and I aren't friends and I haven't seen him in about 30 years anyway. Farrah and I are friends, but we haven't seen each other in about 15 years.' While Majors was devastated by the split, Fawcett and O'Neal went on to enjoy one of Hollywood's most infa-mously volatile relationships. Through their highs (their first kiss was apparently so passionate, it made their lips bleed) and their lows (their many fights; their son Redmond's battles with drug addiction); the couple managed to remain together — on and off — for 17 years. Their union eventually came to an end hi 1997, when Faw-cett returned to her Malibu home to find O'Neal in bed with actress Leslie Stefanson.
Distraught, Fawcett reportedly drowned her sorrows in tequila, made several bad deci-sions (plastic surgery and an embarrassing Playboy video among them), but then, when O'Neal was diagnosed with leukaemia in 2001, he and Fawcett renewed their friendship and, two years later, their rela-tionship. Last year, rumours surfaced that the couple plan to remarry. Compared to that little lot, Majors' own romantic life seems dull.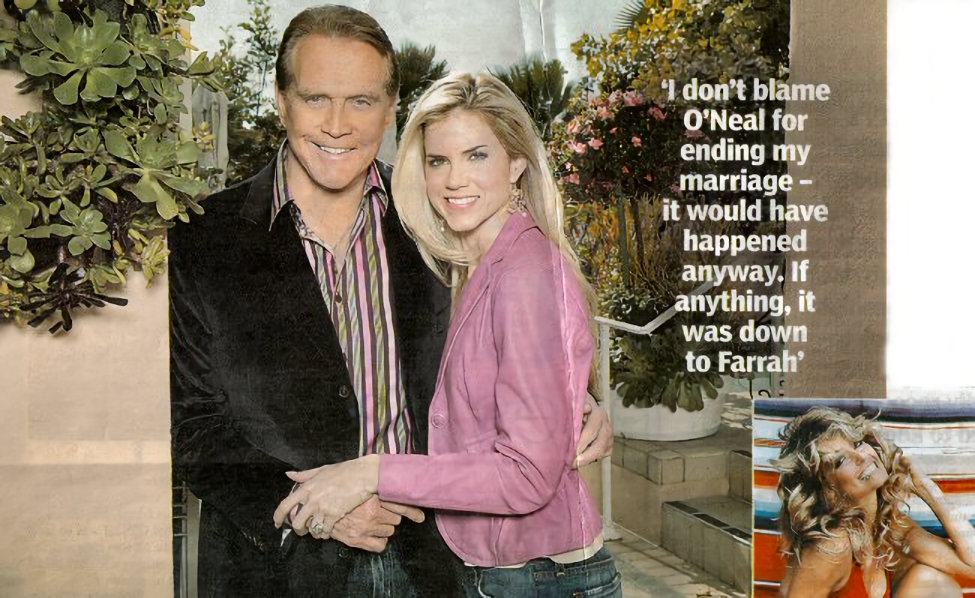 'The divorce broke my heart,' he says, 'but any divorce gives you a certain heartache, although that one probably gave me more than the others. I was with her one way or another for about 12 years and, even though we went through a trial separation beforehand, I still thought there was a chance we could get back together. But that's life,' he adds without rancour, 'and it's all experience. We didn't have children together and so the big concern was our house [a £1.2 million home overlooking Hollywood, which Fawcett decorated to the tune of a staggering £1.7 million]. In the end, I said to the lawyers, "Give it to her", even though I'd bought it, because I just wanted to move on and start again.' hi recent years, Fawcett has been behaving erratically, starting with a chat show appearance where she slurred her words and sparked speculation of alcohol and drug problems; and culminating with her reality
show Chasing Farrah which, to put it politely, was not her best work. 'I was asked to go on Chasing Farrah,' says Majors, 'but I didn't think it was very good. I saw the show and… I'm not saying anything,' he says, wrinkling his face in a manner that suggests he was less than impressed. 'I think she has become a little fun-ny in later years. She's certainly not the girl I used to know.'
Majors' marriage to Fawcett was his second. His first, to Kathy Robinson in 1961, 'took place when I was very young', and produced one son, Lee Majors II, who now works as a film technician. After his marriage to Fawcett broke up, Majors was linked with the actress Heather Locklear and Steve McQueen's daughter, Terry. Then, in 1984, he met the buxom Playboy model, Karen Velez, and they married four years later. They had three children, Nikki, 18, and twins, Dane and Trey, 14, but, after six years of marriage, they divorced.
Majors took to drinking heavily for a period. 'Then I met a wonderful girl called Faith. When you've been married before and they've not worked out, you get scared of committing your-self all over again; but when you find the right one, there's nothing you can do about it.
'I was very put off marriage initially, just because I'd already been through three, but now I know how Tom Cruise felt, jumping on the couch with joy. I was a bit concerned about the age difference [she is 31], but I feel com-fortable knowing that, after I'm gone, she'll be taken care of financially. I feel pretty healthy, too. I stopped smoking and drinking about four years ago; I got back in shape and discovered that I didn't need alcohol to enjoy myself. For the first time in my life, I married my best friend — I don't think I was ever best friends with any of my previous wives.'
Majors would be the first to admit that he has had more than his fair share of relationship insecurities, but, given his incredibly unstable upbringing, they perhaps make sense. He was born in Michigan and his father 'died working in the steel mills when my mum was pregnant with me. Then, when I was 16 months old, my mother was killed by a drunk driver on her way to work. I went to live with distant relatives, but no one told me that I had been adopted by them – I just assumed they were my natural parents. I only found out I was adopted when I read something in the newspaper about it, no one knew that I'd found out until I was more than 21. It kind of changes you, I went through a whole period of questioning things about myselfm although I never asked about my real parents. I just felt a little bit more alone than I might have done otherwise.
'But my adoptive parents were tremendous and they loved me, even though you don't believe that as a kid. For a long time it made me very insecure about committing myself and then, having had a couple of relationships that didn't work out the way I expected, it made me feel even more scared. I always kind of felt like an accident waiting to happen because of the way my parents died.'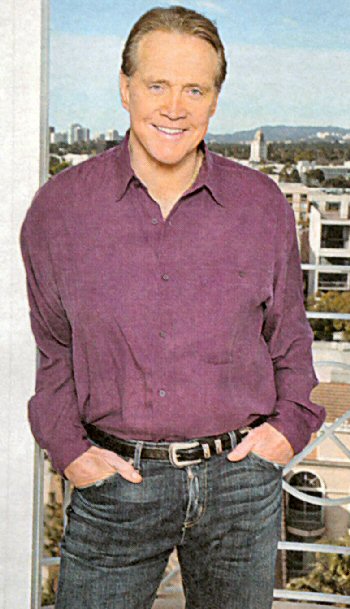 A potential career as a professional Ameri-can footballer was curtailed when Majors suffered a series of injuries. After moving to Los Angeles to become a school football coach, he got the acting bug, studying drama in his spare time, and landing a role opposite Barbara Stanwyck and Linda Evans in The Big Valley. His contract with the show meant that he had to pass up the role of Joe Buck in Midnight Cowboy (subsequently made fam-ous by Jon Voight); but then came The Six Million Dollar Man. Majors played Colonel Steve Austin, a test pilot who suffered a horrific accident, but was helped by a secret government agency, which rebuilt both his legs, an arm and an eye. 'I could never go into a bar because everyone would want to arm-wrestle me,' he says, 'And I was even invited to visit the Shah of Iran because his 14-year-old son, Reza, was such a big fan.' That was followed by another hit, The Fall Guy, in which Majors played a stunt man who moonlights as a bounty hunter.
'After that,' says Majors, 'I took several years off because I was just so burnt out from working 12-14 hour days. They wanted me to do another year of The Fall Guy, and maybe I should have done because they were willing to pay me millions, but the money just wasn't impor-tant to me then. I came back to TV about six years later in a show called Raven. I had to wear padding that made me look more than 20 stone. That probably hurt me career-wise for a while because, when people saw me after-wards, they'd say, "We really thought you'd let yourself go", and I'd be saying, "No, I was playing a part. It's called acting.'"
Majors has enjoyed 42 years in show business, making friends with fellow stars. 'Steve McQueen was a wonderful friend. We'd go antique-hunting in Santa Barbara, and then outbid each other for junk we didn't even want. And Elvis too — what a great guy and a good friend. We had some great times together. Once, I hung out with him as he was getting ready to perform at the Hilton hotel in Vegas. He had a wheelchair waiting for him to take him to the stage because it was so far away, but after he finished his gig, I jumped in the wheelchair instead and Elvis was running after me trying to catch up.' Majors sighs.
He lives in Las Vegas now and still acts (his last memorable TV appearance was on Will & Grace as, of all things, a semi-retired dry-cleaner). As well as having roles in upcom-ing movies such as Strike The Tent with Mick-ey Rooney and the Southern drama, When I Find The Ocean, he is also set to appear in TV: The Movie, playing Steve Boston, a geriatric spoof of The Six Million Dollar Man. 'There was a rumour that Jim Carrey was going to do a remake of The Six Million Dollar Man. But I'm not depending on a cameo in that or in a proposed film version of The Fall Guy. Just as long as the guy they pick for the roles is young and good-looking,' he grins, 'and I can look in the obituary columns and not be in them, then it's a really good day.' TV: The Movie will be in cinemas later this year.