LEE MAJORS: WHY HIS LOVERS LEAVE HIM LONELY
December 1967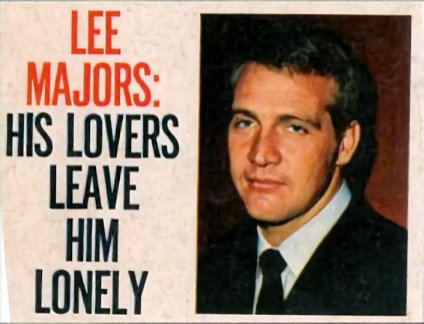 It's no secret that Lee Majors has been tagged Hollywood's lonely boy. Just about every story you read on Lee has some reference to his favourite pastime – taking off for the Hollywood hills – alone.

Since his arrival on the Hollywood scene some years ago, Lee has never been considered anything of a conformist – which is unusual for a newcomer to tinsel town. But Lee has always avoided crowds, parties and the wild night life. Before he came to Hollywood, he lived in Kentucky – it was a life far different from the Hollywood style of living. As Lee put it, "I'm a country boy at heart and the big city ways are strange to me. I always feel like a fish out of water, a barefoot boy in the city."

Lee learned quickly that there were certain social rules to the game of stardom and did his very best to play those games according to the rules. For instance a talented newcomer, is expected to be seen at all the 'in' places with a pretty starlet on his arm of course.

For a while, Lee went this route – it was expected of him. And he did enjoy the night life for a while – and he never said no to taking out those pretty starlets But, believe it or not, Hollywood night life can become old hat – downright dull, in fact.

"It's fun for a while, " Lee admits, 'but it can all get rather stale after awhile. All the nightclubs and discotheques are crowded and noisy – you can't hear yourself think. A lot of actors think this is all part of creating an image. Well, I'm sorry but it's not the life for me. I'd much rather spend an evening with good friends at a quiet, secluded spot or at someone's home – it's a lot more fun. Besides, then I don't have to wear a tie – I hate ties."

It is this attitude about his social life that created an image as a loner. This, and his frequent runnings off to his ranch – away from the crowds and the bright lights of Hollywood.

For Lee, his ranch is a perfect hideaway. ""I bought the ranch because I am basically an outdoors person," he says. "I grew up where there were wide open spaces, grass, trees and hills. I've never much cared for city living. That's why I spend every free minute at the ranch. I feel free there and I can breathe – without having to watch what I say or watch out for photographers.

"Many of my close friends come out to the ranch – so it isn't as if I were really a hermit or anything like that. We'll all have some good times out there on weekends. And then there are times when I do want to be alone – and the ranch is the perfect place for that. Privacy is very valuable out here."

When asked about his reputation for being a loner, Lee has this to say. "I guess that I do have something of a reputation like that," he admits easily. "But let me point out one thing, I think there is a difference between being a loner and being lonely. Nobody forces me to to out to the ranch – I go because it's a place I want to be. I enjoy it."

"There are people who don't mix easily with other people – I'm not a mixer. I'm not eager for a hundred friends. I'd rather have only a good few friends – truly good friends."

What about female friends? "Well that's another story," Lee confesses. "There's where the problems are. You can have as many close buddies as you want and you never have to worry about conflicts. But you can't do that with the ladies. No man can have too many girlfriends – they have a way of getting into each other's way.

"I may be a loner but the only time I really get lonely is when I have problems with women in my life. The months after my divorce were probably the most lonely months I've ever spent in my entire life. – it was real hell trying to adjust. It was during those months that I decided that I wouldn't marry again – at least not right away. And right away means a few years in my language.

"I've dated quite a few girls in the past few years – but I've always made it clear to them that marriage was out of the question. I didn't want any romance to develop that would cause problems – unless, of course, I felt that it was time to marry again.

"But that's one of those things that people say easily – it's never that easy when situations actually happen. I was always moody when I'd break up with a girl – it's a lonely feeling that's hard to explain."

Of course, Lee has been seriously dating Patti Chandler – on and off – for about two years now. Not long ago friends thought the two would marry – instead they stopped seeing each other for a while. But they are dating again and they seem very happy – but neither has anything to say about future wedding plans.

"Patti and I have a great relationship," Lee says. "She's probably the only woman who has ever really understood me. She's not trying to trap me into marriage. She knows that I want to wait and she's willing to wait too. We get along fine and our love for each other has grown. Occasionally we have stopped seeing each other – I guess primarily to test ourselves. After a few weeks we're back together.

"About the only time I really feel lonely now is when Patti can't be near me – we have come to depend on one another. I guess that's what love is supposed to do to two people. We've talked about getting married, but our plans will have to remain private for a while longer. Patti and I each feel that we need a marriage that will last – and we want to give ourselves every opportunity to prove ours is that kind of love before we decide on a permanent arrangement. We've both learned that when you love someone very much – it's possible to be lonely at the same time. It sounds crazy, but it makes sense to us."

It's true, many stars make the mistake of making permanent what should be left a temporary romance – it only leads to unhappiness and divorce. It's evident that Lee is planning his future very carefully – avoiding that thorny path for lovers only.