Starring
Bruce Campbell as Ash Williams
Ray Santiago as Pablo Bolivar
Dana DeLorenzo as Kelly Maxwell
Michelle Hurd as Linda Emery
Lucy Lawless as Ruby Knowby
Creators
Ivan Raimi
Sam Raimi
Tom Spezialy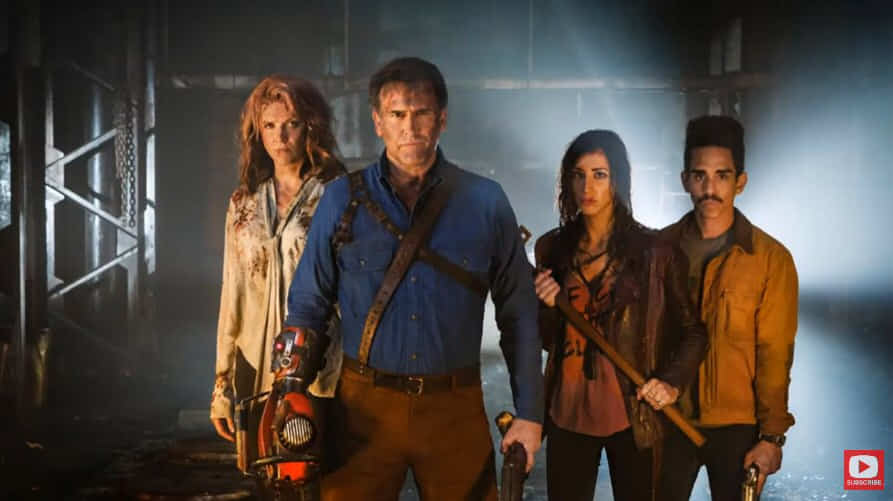 Ash vs Evil Dead is an American comedy horror television series developed by Sam Raimi, Ivan Raimi, and Tom Spezialy for Starz. The series is set in the Evil Dead universe created by Raimi. The series' cast includes Ray Santiago as Pablo Simon Bolivar, Ash's loyal sidekick dealing with the trauma he suffered in the cabin; Dana DeLorenzo as Kelly Maxwell, who, grief-stricken after the death of her parents, plots revenge against the Evil Dead; Michelle Hurd as Ash's former high school sweetheart, Lee Majors as Ash's father, Brock Williams, and longtime Evil Dead franchise star Ted Raimi as Ash's childhood best friend, Chet Kaminski..
The series premiered on October 31, 2015. Three days before the series' premiere, Starz renewed it for a second season, which premiered on October 2, 2016. Starz renewed it for a third season, which premiered on February 25, 2018. The series was cancelled after three seasons on April 29, 2018.
The show was filmed at three key sites: a studio at Starz Evil Dead NZ Ltd's base in Penrose where in series one – with the help of a façade – the carpark became a Walmart-style store exterior; a huge 3400 sq m Avondale warehouse, which was the main street set of the fictitious town of Elk Grove (one of the largest interior sets built so far in New Zealand); and a warehouse in Mt Wellington (large two-level sets for the characters' houses). Kelly Park Film Studios north of Auckland augmented the show's studio space requirements during seasons one and two.
Some of the on-location filming took place among the rolling farmland and streets of Tuakau, the foreboding disused Kingseat psychiatric hospital, pine plantations near Bethells Beach, and Woodhill Forest (the cabin in series two).
The movies are know for their dark humour and over-the-top gore and this continues in the TV series, which is one of the reasons for it's popularity. It's an unusual choice for Lee and he said he was initially wary of it, but Bruce Campbell won him round and he has a blast on the show, ever if occasionally getting covered with blood and guts!
Lee attended his first San Diego Comic Con (SDCC) in 2016 and attended several ASH panels with the rest of the cast as well as tearing it up with Bruce and Kevin Smith as they exchanged one-liners in order to promote his role in Season 2 of the show. Lee appeared in 7 episodes across Season 2 and Season 3.
Premise
The series is set approximately 30 years after the first three Evil Dead films, and serves as a sequel to that trilogy. Ash Williams works at the "Value Stop" as a simple stock boy. Also working at the store is his friend Pablo and the object of Pablo's affections, Kelly. Ash has seemingly done very little with his life since returning from 1300 AD at the end of Army of Darkness, and the beginning of the series sees him living in a trailer and drinking alone in bars. However, Ash must soon renounce his routine existence and become a hero once more by taking up arms and facing the titular Evil Dead. Pablo and Kelly decide to join him on his quest to save humanity.
BROCK PETERS BIO
There is little information in regard to the life of Brock Williams prior to the 21st Century. At an unknown point in his life (presumably in the mid-1950s), Brock was married to a woman named Caroline, who gave birth to two children: a son which he named Ashley Joanna Williams in 1957, and a daughter named Cheryl several years later. Some time after Cheryl's birth, Caroline separated from Brock for reasons unknown (Ash later theorized that it was because Brock was a "miserable son of a bitch", though what exactly entailed remains to be seen), which prompted Williams to raise his two children on his own.
Family Falls Apart
The relationship between Brock and his son grew tense in the years that followed, though the adolescent Ash had begun either subconsciously or knowingly began to model his developing qualities after his father's own boorish and chauvinistic traits. This relationship would finally reach it's breaking point in 1982 following Ash's lone return from a weekend trip gone horribly awry. Brock listened to Ash's tale of an ancient book and demonic spirits which had claimed the bodies and souls of his friends, including Cheryl. Brock, angered by the loss of his daughter, refused to humour his son's story or defend him from the ridicule from the denizens of Elk Grove. It was largely the part of Brock's denial of these events which prompted Ash to flee from his hometown and cut off contact from his father for the next three decades.
At some point before or after Cheryl's death and Ash's departure, Brock opened a hardware store located on the main street running through Elk Grove. In December of 2012, a strange man, had come to Elk Grove looking for Ash Williams, but visited Brock first for any information on his whereabouts. When the man launched into a story about demons and an ancient prophecy, Brock believed him to be just as crazy as Ash, and knocked the man into the hardware store's cellar. Believing the stranger died from the fall down the stairs, Brock locked the store's door and never returned.
Brock bio info from EvilDead Wiki