LEE MAJORS: FINALLY HIS JOINTS FEEL LIKE 'SIX MILLION DOLLARS'
Popular actor finds natural nutrients that help him regain mobility and ease stiffness.
by Douglas Hunt, M.D.
Online article December 2002.
Before his bones/joints became an obstacle in his life, Lee Majors felt invincible. "Even when I was young, playing college football, and I injured my knee, I bounced right back," he says. "I figured my body always would be able to repair itself. I think all of us believe that—until you begin to age and get hit with deteriorating joints."
Long before Lee encountered poor joint health, he was a Hollywood stuntman, which paved the way for future projects. "I worked hard to stay in shape, running every day for miles." And when he got his starring roles in Big Valley, The Six Million Dollar Man, and The Fall Guy (among others), his routine got even more rigorous. "Those shows were all action shows. They involved a lot of tough, physical activity."
Little did Lee know that his work would lead to joint challenges or that he would find the support he needed from dietary nutrients. But it happened. "For 40 years, I put my body through a tremendous amount of work." He pauses, pointing to his left knee and saying, "This guy's taken a real beating." For years, Lee believed that the occasional stiffness and stinging sensations were minor. He merely accepted these as a result of his demanding career.
Now in his early 60s, Lee began to notice some disturbing changes a few years ago. "I started to slow down. And I couldn't do all the things that I love to do—like play golf two or three times a week." An avid outdoorsman, Lee even found it hard to horseback ride. "I'd get off a horse and dig my foot into the ground and…bam," he grimaces, remembering the shock. "It would hit me hard."
Consulting With His Famous Doctor
His doctor, the famous orthopaedic surgeon Dr. Dan Kanell, told Lee that he had few options. One was knee replacement surgery. Another was a return to the drugs Lee already had tried but didn't like because they bothered his stomach. "I'd save them for rare occasions when I just couldn't take it anymore." Dr. Kanell began seeing Lee every week, draining his knees of built-up fluid. "He filled a couple of syringes at a time. I used to joke that I was going in to get my oil changed. 'Take a quart off,' I'd say to the doc." But underneath his humour, Lee felt frustrated.
Tired of the repeated doctor visits and waning mobility, Lee felt like giving in. For the first time in his life, he didn't want to be Lee Majors: He wanted to be Steve Austin, his character in The Six Million Dollar Man. "We'll make him better, faster, stronger." That was the vow of the fictional doctors who replaced Steve Austin's damaged limbs with bionic parts.
But Lee realized that this was not TV. "Knee replacement is serious stuff. And it actually could have made me worse. The Six Million Dollar Man was one thing, but I wanted to keep my own parts." So he continued to plow ahead, convinced that he would have to live with what he had.
"Only If They Make a Pill"
"I sarcastically told my friends that I'd consider knee surgery if they found a way to put it in a pill," he jokes. Little did Lee know that he could actually find the help he needed in a pill. It happened a few years ago, when he discovered a select group of nutrients that could soothe his joints, promote cartilage production, and maintain joint health. Now, his life is forever changed for the better. "They work!" he declares.
Lee recalls, "Actually, I credit my good friend James Coburn for making me aware of this stuff." Coburn experienced his own "living hell" of poor joint health for 20 years before he found support in a natural dietary nutrient that Coburn subsequently suggested Lee try. "I saw Jimmy in the worst condition back in the 1970s and 1980s—all gnarled up and barely able to move. But then I saw the dramatic turnaround that he had with nutrients."
Nutrients That Help His Specific Concerns
So, in 1998 Lee decided to start utilizing natural nutrients that might apply to his particular concerns. Aside from the methylsulfonylmethane that Coburn recommended, Lee found type II collagen. Of the 14 types of collagen in the body, type II collagen is most helpful to the joints. Preliminary research suggests that unlike pure cartilage, type II collagen is easy for the body to digest and absorb. It is especially rich in the essential nutrient chondroitin sulfate, which has been shown to fortify unhealthy joints and improve joint mobility (Duarte 1997).
A third nutrient, cetyl myristoleate (CMO), works as a lubricant for the joints. A recent 32-week study by the Joint European Hospital Studies Program found that using 18 grams of CMO led to some amazing improvements: Those who had been randomized to take it told researchers that their joint tenderness became less noticeable and that they had less stiffness (Siemandi 1997).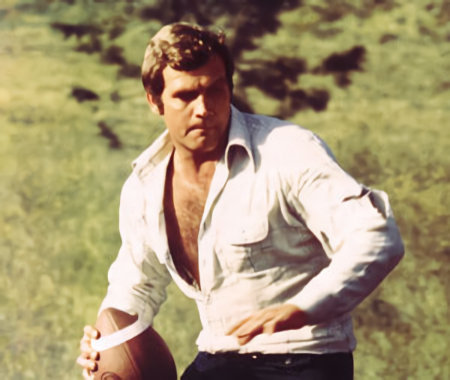 New Keys to Mobility and Flexibility
Lee also found bromelain, an enzyme derived from the pineapple stalk, and turmeric. "It was a little strange when I first heard about turmeric, because it's a spice used to make curry, of all things," Lee recounts. Bromelain seems to have a special "targeting" ability and may be able to seek out and positively affect the microscopic particles that can jeopardize joint health (Taussig 1988). The active ingredient in turmeric has been shown in laboratory animals to promote joint health by as much as 73% (Mukhopadhyay 1982).
Finally, Lee found out about two important "absorption" nutrients: lipase and ascorbic acid. Lipase is a digestive enzyme that helps the body absorb compounds like CMO. Ascorbic acid helps the body digest nutrients that come from food sources, like type II collagen.
Seven Nutrients in One Source
After learning about all of these nutrients, Lee gave them a try. "I found a dietary supplement that contains all seven, and I started taking it every day." After a month or two, his joints improved. He says, "My joints felt soothed. They moved more smoothly. I could play golf when I wanted to." Now, he has made this supplement a part of his everyday routine.
"I never thought my wish would come true that I would be able to reclaim the active life I thought I was losing. It is thanks, in part, to a single pill. But it's been tremendous. I honestly credit these nutrients for giving me back my life."
Today, Lee is as active as ever. He acts in feature films and TV shows. This past year, he performed starring roles in the popular comedy Big Fat Liar and the Disney feature Out Cold. Lee is currently working on Fate, with Miami Vice star Philip Michael Thomas, and on Arizona Summer, directed by Joey Travolta (John's brother), which is scheduled to be released next year.
But he's also having fun. "My fiancée and I recently eloped. We went on a fabulous honeymoon to Europe, and I was able to see and do everything I wanted without worrying about taking it easy. It's the next wonderful chapter in my life."
Lee is emphatic about one thing. "If you have poor joint health like I did, I recommend that you start taking these nutrients as soon as possible. Even if you're under 60 and you haven't yet experienced problems, use them to support your bone/joint health. These nutrients worked for me. And I feel like a million bucks." Then he adds wryly, "Make that six million."
An active lecturer and author of six best-selling books (including No More Cravings, No More Fears, Migraine Killers, and Natural Arthritis Solution), Dr. Hunt spends a good deal of his time researching bone and joint conditions.