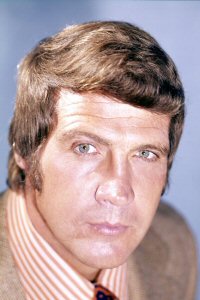 Owen Marshall, Counsellor At Law, Lee's next TV series, came along in 1971, with him sharing second billing with Arthur Hill. Lee was grateful to holster his six-guns, and step outside of usual western roles. "Westerns can type you," Lee said "After a while, producers forget their is an actor under that ten-gallon hat, and think of you only as a cowboy." Playing Jess Brandon, a junior partner in a law firm headed by Marshall. Lee was now a seasoned actor, with a list of series and film credits to his name. He came to the first day of shooting and kidded around, putting everybody at ease – some say an action based on his memories of his early days on The Big Valley set. In fact, it was Hill, according to an observer, who "was pretty uptight." Arthur admitted "I learned alot from Lee" referring to the fact that Lee pointed out some practical camera angles to the Broadway veteran.
Despite being cast on the show because the studio knew that his name would be a draw for audiences familiar with his earlier work on The Big Valley [ratings rose on The Men From Shiloh once Lee joined the cast], and Lee's own desire to shed his cowboy image, Lee was growing anxious for his next challenge. The chance to work with Hill, and various distinguished guest stars which came onto the show each week, were enjoyable but Lee felt limited by his court-room role. "One of the things about that show," Lee said in an interview later "is that I'm a country boy from Kentucky and never really learned how to tie a necktie. Also I like action, staying in shape, and all the exercise I ever got was walking from the counsel table to the judge's bench in the courtroom on Sound Stage 27. It was basically Arthur Hill's show. I had so little to do and so much time off that series made a great golfer out of me."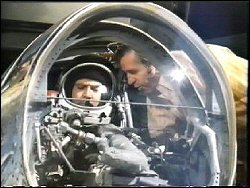 It was whilst filming Owen Marshall' that Lee was offered the part of Steve Austin, the bioniclly rebuilt astronaut on the ABC 'Movie Of The Week' The Six Million Dollar Man based on the novel "Cyborg" by Martin Caidin. The story involved a former astronaut, now test pilot, who suffers horrific injuries when his experimental aircraft crashes. With the loss of an eye, his right arm, and both legs, his damaged body is rebuilt with artificial limbs and the world's first Cyborg is born. Funded by the government at a cost of six million dollars, the experimental surgery is a success. The "Bionic" limbs look, and feel, like the real thing, but give Steve Austin super strength, speed, and vision, and is recruited as government agent, and sent on secret missions deemed to dangerous for "normal" operatives. To everyone's surprise, the movie aired on March 7th 1973 and achieved something which rarely happened – it beat a Bob Hope Special in the ratings. On the strength of this ABC sanctioned another two movies, to air on the Saturday night "Suspense Movie" slot. The schedule allowed lee to continue his work on Owen Marshall' while The Six Million Dollar Man made it's impact on the viewing public – the success of which lead Universal to immediate start production on the the one-hour series. The series premiered on January 18th 1974, with episode "Population: Zero". From playing the 4th-lead on The Big Valley to co-starring on Owen Marshall', Lee Majors finally achieved his ambition – the starring role on his own TV series.
The Six Million Dollar Man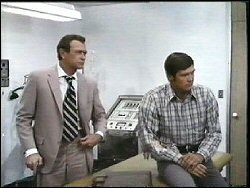 The Six Million Dollar Man saw Lee cast as the series lead, Col. Steve Austin, alongside Richard Anderson [originally a role portrayed by Darren McGavin in the original movie] as his government boss Oscar Goldman, and Alan Oppenheimer [and later Martin E. Brooks] as Dr. Rudy Wells, the man responsible for Steve Austin's Bionics. Many have tried to analyse the reasons for the show's sudden, and sustained, success and even Richard Anderson was surprised when his daughter came home from school the day the first one-hour episode aired and exclaimed, "Everybody's running in slow motion, Dad!". The obvious thing the audiences identified with was that despite his super-human abilities, Steve Austin was not invincible. Unlike Superman bullets could still hurt him. He still suffered from human frailties, he was still, in part "human" and vulnerable, which gave audiences the chance to root for – and empathise – with him. The time was right for a good old-fashioned clean-cut hero. Someone people could identify with, believe in, and root for. Lee had a hit show on his hands!.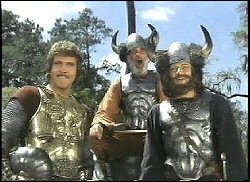 The rest, as they say, is history. The Six Million Dollar Man finally confirmed Lee's position as a leading TV star of the Seventies, in a way none of his previous roles had. He was the star of his own TV series, and his face was seen on TV and magazine covers around the world. With the enormous success the series garnered over it's five-year run, Lee tried his hand at repeating this success on the big screen. Over the next several years, he starred in The Norseman [made by his own company Fawcett-Majors Productions, which he set up with Farrah], Killer Fish, Steel, and Agency, amongst others. Lee may have been unlucky in his choice of films, or just in the end product, but unlike Bruce Willis, who did the same thing on the back of the success of Moonlighting, he never got that one break that launched him into a career in motion pictures. Most of the films turned out to be B-Movies, at best, and if made today would have found themselves going straight to DVD.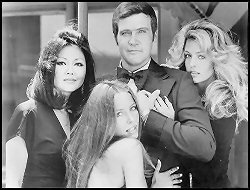 The show went from strength-to-strength, with stories and characters as varied as it's list of guest stars, during it's 100-plus episode run. Other Bionic characters to appear included a Seven Million Dollar Man [played by Monte Markham, the actor originally considered for the role of Col. Steve Austin], a Bionic Boy [Vince Van Patten in a role the producers hoped might spawn a spin-off series], and of course, The Bionic Woman. Lindsay Wagner, a relatively unknown actress, appeared during the second season as Steve Austin's old girl-friend, Jaime Sommers, who after a sky-diving accident and at Steve's bequest, is made Bionic. She was only cast for the one 2-part story, and killed off at the end after her body rejected the bionic implants. Or at least the producers had intended to kill her off…. ABC knew the story had been popular because the ratings for the show began to climb as soon as it aired, but what ABC were not prepared for, was the thousands of letters they received protesting Jaime's death. Viewer reaction was to strong to ignore and ABC decided they needed to find a way to bring the character back, and went to Kenneth Johnson the writer of the original 2-parter for help.
The second Bionic Woman story aired, again drawing in the audience and moving the series into the Top Ten weekly shows for the first time in it's run. Seeing a hit on their hands, ABC signed the actress up, and on January 21st 1976, some 10 months after her first appearance, the Bionic Woman made her debut in her own show. The two shows played off of each other, and soon came to dominate the week ratings. Lee and Lindsay guest-starred on each others series, either in brief "walk-on" roles, or in 2-part stories which would start on one series and the concluding part air on the other. It was a great way to maintain ratings for both series, and continued until ABC mysteriously dropped The Bionic Woman during the second year, and it was then picked up by for it's final year. Richard Anderson became the first TV actor to play the same role – that of Oscar Goldman, Steve and Jaime's boss – on two currently airing series.
Lee and Farrah's flourished during the mid-Seventies as they became the TV's "golden couple". Lee's career was in full flight, as he left Owen Marshall' behind him and got to grips with the hard work of starring in his own very successful TV series. Farrah's career since coming to Hollywood had yet to take off, consisting as it had until then of guest appearances on various TV shows, including Lee's Owen Marshall', and 4-episodes of The Six Million Dollar Man. 1975 saw all this beginning to change, as Farrah got a small part in Logan's Run and then a re-occurring role on David Jansen's Harry-O. Then came Charlie's Angels. 1976 saw Farrah cast along side Jaclyn Smith, and Kate Jackson as 3 glamorous ex-policewomen who now work for the Towsend Detective Agency as private investigators, for their unseen boss Charlie [voiced, but never seen, by John Forsythe]. The show was an instant hit, shooting to the top of the ratings even during it's early days. With a combination of beauty, bathing costumes, and not too much plot, the show gave audiences gals, glamour, and thrills in a package hard to resist. A kind of 70's-Baywatch.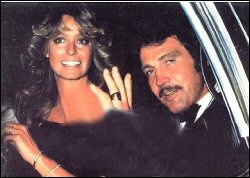 But success doesn't always bring happiness and Lee and Farrah's marriage now began to experience the strain of a couple who are in the glare of the public spotlight, with Lee's career taking off through his role as Steve Austin on SMDM, and Farrah's casting as Jill Monroe on Charlie's Angels. From press reports of the couple earlier wedded bliss, there was now reported jealousy and bitterness between the two. Long shooting schedules and weeks apart didn't help matters. The couple divorced, again in a blaze of publicity courtesy of the Press, after separating in the late 70's, although an official divorce did not go through until 1982. Farrah moved in with one of Lee's best friends: Ryan O'Neil. Lee was out of town filming Agency, in Toronto, and agreed to keep an eye on Ryan's daughter, Tatum, who was also in the city, and in return Ryan agreed to keep Farrah company, after Lee thought she may be lonely with him away filming. The affair was splashed across the tabloids of the day, and Lee must have felt doubly betrayed by both his wife, and his best friend, throughout.
'The Fall Guy' and beyond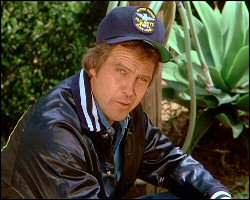 Agency failed to ignite Lee's movie career, and 1981 saw him back on the small screen in a new series entitled The Fall Guy, in which he played Colt Seavers, a Hollywood Stuntman who worked part-time as a bounty hunter when film work was slow. Alongside Douglas Barr, and Heather Thomas, Lee had another hit on his hands, and the series ran for 5 years. Using a clever combination of movie stock-footage, inter-cut with original scenes of Lee, and the rest of the cast, Colt and friends began each show with a "big stunt", before going off on his latest bounty hunting assignment. Similar to the SMDM, the show appealed to young and old: the youngsters got off on the car chases and stunts each week, whilst a host of famous guest stars [including Lee's Bionic co-stars Richard Anderson, Jennifer Darling, and even Lindsay Wagner] assured the interest on the adults, alongside the lovely Heather Thomas for the dad's.
Lee's met Karen Velez, in 1984, [Playboy "Playmate of the Year" 1985] and the couple married in September of 1988. During the mid-eighties to mid-nineties, Lee juggled fatherhood and acting, as the pair became the proud parents of 3 children: Nikki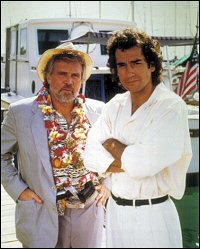 Loren [1988] and twins Dane Luke and Trey Kulle [1992]. . He continued to work on The Fall Guy. Despite the Fox studios eagerness to get Lee to change his mind and reprise Colt Seavers for another year, after 5 years in 1986, he called it a day and the stuntman/bounty hunter hung up his hat. Lee continued to work though, fitting in 3 Bionic reunion movies, numerous movies, as well as 5-episodes stint on the Vietnam War series Tour of Duty. Family responsibilities appeared to keep Lee from taking on leading role on a regular series, but moving into middle age Lee was happy to relinquish his 'leading man' status to younger actors and settle for co-star status on his first regular series since The Fall Guy. The show was Raven, a 20-episode series which aired '92/'93. The show starred Jeffrey Meek as ex-CIA martial-arts expert, Jonathan Raven, searching Hawaii with the help of his rather dubious detective friend – played with alot of padding and tongue firmly in his cheek by Lee – for his lost son. Meek took the lead in the martial arts action scenes, but Lee was never too far as the wise-cracking and gun toting Ski Dablonski. The show debuted in the Summer of '92 and despite the chemistry between the two leads, poor storylines and and bad timing saw the show being taken off the air after just 17 episodes. Despite this, Ski remains ones Lee's most eadearing character roles.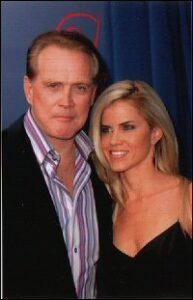 Lee's personal life took a downturn in the early 90's and nothing seemed to be able to bring him out of this, that is until in January 1995 he was introduced to a woman who was to become his rock. Faith Noelle broke down the wall that had built up around him and after a date at the Superbowl later that month the pair became inseparable as they were spotted out on the town and at movie premieres. As Lee's outlook on life improved, he threw himself back into acting with guest roles in a host of movies and TV shows. Lee and Faith married on 9th of November 2002.
The new millennium has seen Lee adapting to his autumn years and taking on character-driven or father-figure roles such as Bucko Cassidy in Watin' to Live [2002], or Mr Travers in Arizona Summer [2003]as well as world weary characters such as Marshall Toll in The Trail to Hope Rose. But far from slowing down after over four decades of acting he has continued to work a pace both on the big and small screen, finding a new and younger audience for both his older shows and new. Not to be in any doubt Lee still continues to dominate our screens, either through re-runs of his early shows and movies, to hosting TV Specials, or doing guest spots on current shows. As Lee moves into his late 60's, just like Steve Austin, he showing no signs of retiring, or slowing down.
From a personal perspective Lee appears to have never been happier. He displays a confidence and relaxed manner in his golden years, that he often chased in his youth. He is happy to let others share the spotlight of fame and stardom that he once basked in, as he passes his wisdom on to his juniors. With Faith at his side there seems little he can't turn his hand to. In fact for Lee's 69th birthday, Faith secretly arranged for the pair to fly to Honolulu, Hawaii to renew their wedding vows.