Samuel Ames / TV & Satellite Weekly, October 14-20 2000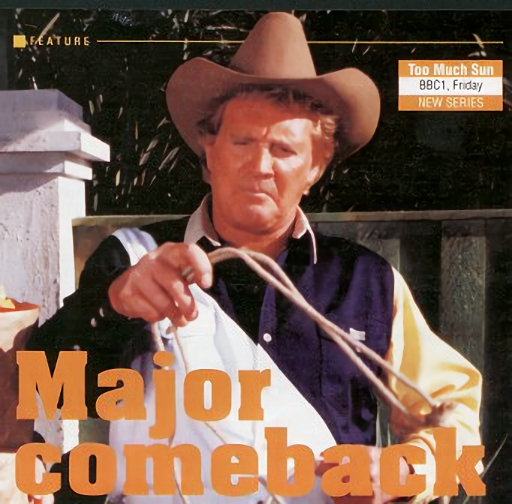 In an ironic twist of fate, Lee Majors – the orginal bionic man – is to go under the knife in real life. The all-action superhero of Seventies hit, The Six Million Dollar Man, who traded in his high-octane exploits to play an effeminate former TV cowboy in the week's new six-part BBC sitcom Too Much Sun, requires surgery to correct a limp.
Although still super-fit at the age of 60, the star, once married to Charlie's Angel Farrah Fawcett, reveals that, thanks to his daredevil antices while filming the cult show and his follow-up sucess The Fall Guy, he needs a new knee.
'I did all my own stunts in both series so it was inevitable that something would give in the end,' he says, 'The cartilage has gone and I'm going to have a new titanium knee fitted. But I've been hanging on because I've heard they last 15 years and ideally I'd like it to outlive me!'
Majors kicked off his career on the American football field before becoming a stuntman and appearing in a series of small roles on TV and in movies. He hit the big time as superhuman Colonel Steve Austin in The Six Million Dollar Man.
'Six Million Dollar Man was a very tough, physical show. I was tired when it ended. then I did five years of The Fall Guy which probably wasn't very sensible, because that was all about kicking down doors, and getting blown up. So, in a way, I've been lucky I've not had worse injuries,' he says.
Majors quit after rejecting a megabuck deal to stay on as the 14-hour-a-day schedule was taking its toll on his health. 'I haven't exactley retired,' he explains, 'I do guest appearances and cameo parts, but I like to spend more time playing golf now and taking life a little easier.'
In Too Much Sun, the actor plays the landlord of a wannabe scriptwriter (Full Monty star Mark Addy) and an actor (Alex Jennings), both trying to break into Hollywood. the role offered him a long awaited chance to explore his silly side.
'I've always wanted to play some comedy and the English are best at it,' says Majors. 'The scripts I was sent made me laugh very hard even though I was astonished at what you can get away with on British television.
'It's not like anything I've ever done before, and I think it will shock a few people because the guy I play is so camp. In fact, before I left the States, I was playing a last game of golf with some buddies and I was trying to explain to them what I was doing in the UK. They asked me if I was going to be playing the kind, I replied, if anything , I'm going to be playing the queen!'