By Terry Pace –Entertainment Editor
Lee Majors looks back on a lifetime of heroes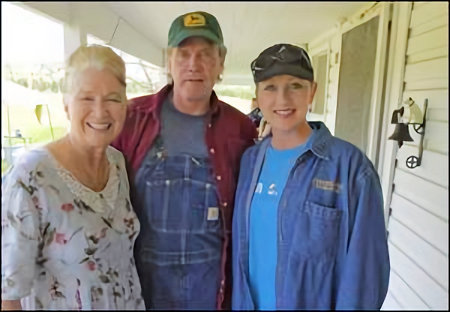 Lee with Diane Ladd & Tonya Holly [Director]
"When I Find the Ocean" casts 66-year-old actor Lee Majors in the key role of Thomas Strickland, a tough but compassionate grandfather and blue-collar family man in rural Alabama during the mid-1960s. Another familiar face, actress Diane Ladd (left), plays Thomas' wife, Edna. Filmed mostly in the Shoals, the movie was written, directed and produced by local filmmaker Tonya S. Holly
Lee Majors has played a host of Hollywood heroes. In a screen career spanning four decades, the blue-eyed, Kentucky-bred, 6-foot-1 actor has added soft-spoken strength and integrity to a countless array of courageous characters.
Majors' repertoire runs the gamut from cowboys, cops, private eyes and defense attorneys to secret agents, stuntmen and air pilots. Of course, there's also a certain "bionic" '70s-era superman who became — and remains — an American pop-culture icon.
That fateful chapter in Majors' career began in 1973 with a unique concept called "The Six-Million-Dollar Man." The made-for-TV movie cast Majors as Steve Austin, a severely injured astronaut who is rebuilt by a covert intelligence agency using nuclear-powered limbs that make him "better … stronger … faster" than ever before.
The weekly "Six-Million-Dollar Man" series that followed became one of the highest-rated prime-time shows of the decade. (In the middle of its run, Majors' wife at the time, Farrah Fawcett, simultaneously shot to stardom with another smash hit, "Charlie's Angels.")
Airing from 1974 to 1978, "The Six-Million-Dollar Man" attracted a devoted following of young and old alike. Majors' sci-fi/action series inspired a hit spinoff, "The Bionic Woman," and secured his place in TV history. Two years ago, Majors won TV Land's Superest Superhero Award, accepting the honor by reminding viewers that "the real heroes are our soldiers in Iraq."
"I had no idea how big the show was at the time we were doing it because I was always working," Majors confessed during his recent month-long stay in the Shoals for a local film project. "When I was off, I didn't have time to go anywhere — I was resting. It's only been in the last 10 years or so that I've been able to look back and think, 'That show must have been pretty good.' "
IBM recently capitalized on Majors' bionic past by casting the actor in a TV commercial for its technologically advanced Think Pad laptop. The commercial features an affectionately funny homage to the sci-fi sound effects that accompanied the show's slow-motion action sequences — complete with a surprise cameo by the "Six-Million-Dollar Man" himself.
"It's a pretty clever spot," Majors remarked. "I haven't seen it too often, but apparently a lot of people have. There's been a lot of reaction to it."
Even before the overwhelming success of "The Six-Million-Dollar Man," Majors had already played major roles in two other hit series — the rousing Western "The Big Valley" and the gripping legal drama "Owen Marshall: Counselor at Law."
When his career as a cyborg came to an end, Majors went on to star in an unprecedented fourth hit series for ABC, "The Fall Guy." The show, which premiered in 1981 and ran for five successful seasons, cast Majors as Colt Seavers, a Hollywood stuntman who moonlights as a bounty hunter.
"I've done a lot of independent films lately, and crew people are bringing in their dolls and lunch boxes — either it's a 'Fall Guy' lunch box or a 'Six-Million-Dollar Man' doll," Majors explained. "That's when you realize, 'A lot of people must have been watching.' "
Even though ABC wouldn't release him from his "Big Valley" contract to star in 1970's Oscar winner "Midnight Cowboy," Majors managed to make his mark on the movie screen. He played Joan Crawford's husband, rode the range with Charlton Heston and worked with legendary director William Wyler. He even spoofed his action-star image in the Bill Murray comedy "Scrooged!"
"Acting is a tough business, and the percentage of people who make it is very low — it's about 1 percent," Majors maintains. "I've had disappointments and heartbreaks and setbacks and roles I didn't get, but something always came along that either made me better or was an even better role."
Most recently, the 66-year-old actor donned a well-worn work shirt, a John Deere cap and a pair of faded overalls to play the key role of Thomas Strickland — a tough but compassionate grandfather and blue-collar Southern family man — in the independent feature "When I Find the Ocean."
Filmed primarily in the Shoals, the project brought Majors to the area for four weeks of location shooting with co-stars Diane Ladd (who plays his wife, Edna) and Amy Redford (who plays his daughter, Jenny) as well as familiar faces Graham Greene, Bernie Casey, Richard Tyson and George Lindsey.
"When I found out Lee was available, I knew he was perfect for the part," recalled Tonya S. Holly, the movie's writer, director and producer. "He has this kind sensibility about him, but he's also very strong — and that's what the character of Thomas has to be. He's the glue that holds it all together."
Set in rural Alabama in 1965, "When I Find the Ocean" focuses on an 11-year-old girl (played by Holly's daughter, Lily Matland Holly) who imagines that the creek behind her house will carry her away from struggles and strife at home and lead her to the peace and serenity of the ocean.
"Lee brings a lifetime of experience to the role — and to the production," the writer-director observed. "He comes to the set to work, and he comes to do his best. He's a total professional."
One of the film's first-time actors — Muscle Shoals real-estate agent Heath Thompson – had a personal reason for wanting to appear on screen with Majors in the movie's search-party scene: His mother named him after her favorite character from her favorite TV series of the '60s, "The Big Valley." "When the guys from the search party come in, I say, 'How you doin', Heath?' " Majors explained. "That's a special feeling, knowing that people have actually named their kids after parts you've played. I don't know of any Colt Seavers out there, but there are several Heaths — and a whole lot of Steve Austins."
Settling back in a golf cart during a break at Florence's Wildwood Park, in between scenes being filmed on the banks of Cypress Creek, Majors agreed to what he called his first full-length interview in 20 years. For the next half-hour, the actor cheerfully discussed his background, his singular career as one of TV's most successful series stars, his recent role in "When I Find the Ocean" and a few of his future projects.
Q: First of all, this is a thrill for me, because TV fans of my generation grew up watching you week after week in one hit show after another.
A: I did "Big Valley" in the '60s, "Six-Million-Dollar Man" in the '70s and "Fall Guy" in the '80s. I also did like four other series sprinkled in between there. I did the last year of "The Virginian," when it was renamed "The Men from Shiloh"
Q: That was the season they brought you and Stewart Granger in to join James Drury and Doug McClure.
A: That's right. I also did the lawyer series "Owen Marshall" with Arthur Hill. I did a recurring role on "Tour of Duty," and I did one in Hawaii called "Raven." Then I did a sitcom in London called "Too Much Sun" for the BBC.
Q: Three of those shows were smash hits that had long, healthy runs and are still seen in reruns today. Isn't that a rare feat for an actor?
A: It's being in the right place at the right time and taking advantage of your opportunities. If you're good enough, they'll keep you around.
Q: Was "Too Much Sun" your most recent series?
A: Well, I took some time off. I got kind of burned out, so I moved to Florida. I was down there for 10 or 12 years, raising children. I have a wife now who's been with me for more than 10 years. Her name is Faith, and she's been great – I keep the Faith. I just turned 66, and I'm starting to work again.
Q: How does it feel to be back in the saddle again?
A: It feels great. When I first got back, I did a Western for the Hallmark Channel called "The Trail to Hope Rose" with Ernie Borgnine, Lou Diamond Phillips and Richard Tyson, who's also in this film. Then I went to Canada to do a couple of things.
I just got a call to do a new "National Lampoon" movie (now titled "TV: The Movie"). It's a series of sketches from the same guys that write "Mad TV." Anyway, they're crazy – but I figured, "What the heck?"
Robert Wagner and William Shatner and I are going to do a two-hour movie for ABC called "Action Heroes" that I think will be pretty entertaining. We play three action stars who wind up working for a detective agency and find out that the real thing is nothing like make-believe.
I also did a recent episode of "Will and Grace." I never watched the show much before, but once I worked with those guys, I started watching a little more. It's a funny show, and I like those actors. They're very talented.
Q: Do you enjoy having a chance to do comedy?
A: Oh, yeah. I really do. I think I've got one more series in me, and I don't care what it is. But those sitcoms – they're stealing money. I've never seen a schedule where you just go in two hours almost every day of the week and then all day on one day. Then you shoot it at night with an audience and you're out of there.
They're stealing money, and they just raised their salary to $600,000 an episode. They're only doing a 30-minute show, and there's four of them, so how many minutes can they be on camera?
I look back at all the work I've done, running my butt off through the woods shooting "Six-Million Dollar Man" and making next to nothing. I made 900 bucks a week on "Big Valley." That was big money then. It's just a whole new world now.
Q: Arriving on the scene in the '60s, you had a chance to work with some of the top stars from Hollywood's golden age.
A: I've worked with some of the best. My first film that I got credit for – the one that really introduced me – was a Western called "Will Penny" with Charlton Heston. It was one of the best pieces of work I think he's done. He was really super in that, and so was Joan Hackett.
Q: Even earlier – and very briefly – you worked with Joan Crawford in one of her most sensational horror movies of the '60s, "Strait-Jacket."
A: That was the first piece of film I ever did. I'm from Middlesboro, Ky., a little town on the Tennessee and Virginia border. Everybody from my hometown came to see it, and on the marquee at the theater there they put, "Lee Majors Starring in 'Strait-Jacket!' … Also Starring Joan Crawford."
That was a William Castle film – the guy that did all those "gimmick" horror pictures in the '50s and '60s. I played Crawford's husband, who's been fooling around on her. She catches me and chops my head off with an ax before the opening credits came on – and that was it.
I worked on that for a week, but it took a week to shoot that one scene. They also had to do a plaster cast of my head, because my head shows up in her bed later on in the picture.
Around that same time, I did a retelling of "The Monkey's Paw" on "The Alfred Hitchcock Hour." I played a racecar driver who gets killed, and his parents try to use the monkey's paw to bring him back. I also did a "Gunsmoke" where Jim Arness shot me, but I never saw him. He was home in Hawaii.
After doing those three roles and getting killed three times, I thought, "If I don't get a series, I'm not going to make it."
Q: What are your memories of working with Crawford?
A: When we did "Strait-Jacket" at Columbia, she had the stage down to about 40 degrees. Guys were walking around in big ski jackets. She lowered the temperature so that her makeup wouldn't run.
Joan was married to the guy that was head of Pepsi-Cola, so they had a machine there – but you had to put a quarter in to get a Pepsi. She was tough.
Q: How did you train to be an actor?
A: I didn't. I started out wanting to coach football. Then I got a bad back injury, and they thought I wasn't going to have any feeling in my legs. Finally it came back, and I went back and played my senior year, but not as good as I did before I got hurt. But I was still hoping to be able to coach and teach.
When I was on the injury list for a year, I went on a dare to try out for a play, Arthur Miller's "The Crucible." I got the role of John Proctor, which was the lead, and I thought, "Damn — now I've got to do it!"
Anyway, I had this one emotional scene where I'm down on one knee. All of my football friends – these big tackles and guards — were on the front row with their girlfriends. So I kind of cheated a little and looked, and the girls all had tears running down their faces and the guys all looked really intent. So I thought, "You know, there's something to this."
Q: Where did that lead you?
A: I did a few more plays, and then I went to L.A., because I knew I could get a coaching job there. I worked for the recreation and parks department for a year. Some of the stunt guys would come to the park, and I started doing some stuntwork. I kind of got in that way.
Later on, I did some training with a lady there in L.A., and then I went in to get an agent and saw this really good one, Dick Clayton. A short time after that, he sent me on this interview for "The Big Valley."
There must have been 500 guys up for that part. I ended up testing three or four times. The last time I tested was with Linda Evans, who played my sister. It was down to three of us, and the other two were Dennis Hopper and Roy Thinnes, who later did "The Invaders." Luckily, I happened to get it – and I never stopped working after that.
Q: In terms of co-stars, you started at the top with Barbara Stanwyck on "The Big Valley."
A: Barbara gave me my discipline. I'm always on the set before they need me, and I never leave the set, but I'm also the first to leave when they say, "That's a wrap."
Barbara also taught me to learn your lines and everybody else's. I learn the whole script before I show up. It pays, because once you've got the lines in your head, you can concentrate on movement or doing things with your props.
I've tried to pass that on to other actors — make sure you know your words way ahead of time. The words are 90 percent of it. The other 10 percent is just the way you dress it up.
Q: You mentioned "Will Penny," which I think is one of the all-time classic Westerns. After that you did "The Liberation of L.B. Jones," which was a pretty volatile story about racism in a Tennessee town.
A: You know, that was Willie Wyler's last film. It almost set off riots in the South again. Barbara Hershey played my wife, and Lee J. Cobb, Roscoe Lee Browne and Anthony Zerbe were all in it. I think it was a little before its time.
Q: Wyler directed some of Hollywood's masterpieces, from "Wuthering Heights" to "The Best Years of Our Lives" to "Ben-Hur." What was his approach to working with actors?
A: He was very ill at the time. He had emphysema, so he was wheezing. His wheezing was louder than our dialogue, and he couldn't hear you. So he had a hearing aid that was connected to the boom.
Lee J. Cobb and I were in a scene together where we were walking into an office. Wyler would say, "Cut. Do it again." We'd do it again, and he'd say, "Cut. Do the damn thing over again." He did this about 21 times, and we were doing the same thing every time we walked in. He never told us we were doing anything wrong. After about take 10, he took the hearing aid out and put it in his side pocket. You knew he couldn't hear you, but he would just sit there. After we did all those takes, he turned around and said, "Print 6, 13, 18 …," and named out a bunch of numbers. The guy behind him said, "OK, Mr. Wyler!" And I'm going, "What the hell is this?" That was my experience with William Wyler – but I was just happy to be in it and happy to be working with him. I don't know how, but he must have known what he was doing, because the scene came out OK.
Q: You've worked with three generations of Hollywood talent, from many of your boyhood idols to several future superstars.
A: I think I've known just everybody that's worked in Hollywood. If I didn't work with them, I knew them really well. Doing a series, every week you work with a new star. I worked with Richard Dreyfuss when he was 16 or 17, and Sandra Bullock was on "Six-Mill" before anyone knew who she was. One of the "Owen Marshall" shows I did was one of the first things Steven Spielberg directed. He was just a kid. I even had the pleasure of working with Richard Burton on "The Fall Guy." I was taking a girl cross-country on a train who had skipped bail. The bad guys were trying to get this girl, and he was in the next compartment, studying a script. I kept running and jumping in and out of his compartment during this big fight scene – and he kept studying that script. It was pretty funny. I hung out with Richard quite a bit. He was an interesting man. I also had a wonderful relationship with Paul Newman, and with Steve McQueen. He was one of my all-time favorites, but I never got to work with him. Clint Eastwood's a good friend, too – he and I used to play in softball games together.
Q: One of my favorite episodes of "The Fall Guy" guest-starred Roy Rogers and several of the classic cowboy actors.
A: Wasn't that a hoot? I went out to Roy's ranch after that, and we became great friends. I took him back to Oklahoma, and we went quail-hunting. He was quite a guy. There's a thing I learned when I was doing "Big Valley." I was younger and a little more agile than Peter Breck, and Richard Long didn't like horses. So I'd put my foot in the stirrup, but I'd look and make sure they were both swinging up before I'd swing up – because once you swing on a horse, it wants to go. Well, in one of the scenes we did for "Fall Guy," Roy and I were to run out, get on our horses and ride out of town. The guys we were chasing were in a Jeep. Roy had these two guns on – it was a pretty heavy deal. He tried to put his foot in the stirrup, and somehow or other he missed. He looked at me and said, "I think my spring is sprung." He was so great. Once we did the scene, we're riding and chasing the bad guys when I look over, and suddenly it hits me, "I'm riding with Roy Rogers." I thought I'd gone to heaven, because I grew up watching Roy and Gene Autry.
Q: How did you get involved with "When I Find the Ocean?"
A: They called me, and I read the script and said, "You know, this is the kind of movie I like to make." It reminded me of the old days, when they had a story to tell. Nowadays it's all action this and triple-X that.
This is Tonya's first feature, and she was a little nervous at first about people being around and watching rehearsals. I told her, "Don't worry about them. Just do your thing. In fact, pretend that they're all naked." After that, she came back and said, "You were right. I feel better now." She's the boss, and I only try to help her. If I see something in a scene or maybe a different camera angle that will help her or save her some time, then I bring it up. After 42 years in the business, you learn a little bit about it.
Q: What appealed to you about the role of Thomas?
A: Well, it was pretty close to the vest. It was a little bit like the marshal I played in "Hope Rose" – kind of stern and straightforward. But this Thomas guy, I believe, is a bit more in the Lord. He loves his granddaughter. I just identify with the whole thing. It was a pretty easy part for me, because I didn't have to go far. It's just me. Tonya's daughter Lily plays my granddaughter, and she's a sweetheart. When we do a scene together, I make sure we talk about it and rehearse a little. A lot of kids rehearse and then go play and come back and can't get focused, but Lily's held up pretty well. She's keeping her mind on the work.
We've really got a great cast all the way down the line. Diane Ladd did a wonderful job, and Amy Redford, Richard Tyson and George Lindsey are terrific. We've been a tight-knit group, and I think the chemistry has been good — so I hope Tonya will have a nice little picture.
Q: Why do you think your three big TV series – "Big Valley," "Six-Million-Dollar Man" and "Fall Guy" – all connected with such a vast audience?
A: Number one, they were youth-oriented, and they told good stories. Plus they were clean, and not a lot of people got killed. There was action, but not much violence – we weren't just blasting people away. I've never minded my kids watching any of the series I did. That's important to me.