'WHEN I FIND THE OCEAN' - INTERVIEW WITH TONYA S. HOLLY
By Terry Pace [Anniston Star]
Associated Press / 03-01-2005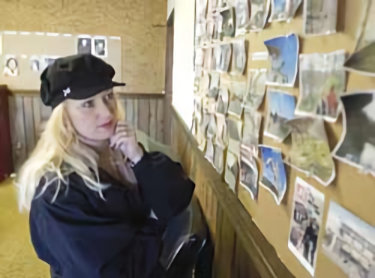 During preparations for the filming of the movie When I Find the Ocean, director-writer-producer
Tonya S. Holly looks over photos of filming locations in Sheffield. Photo: Jim Hannon/Associated Press
LORENCE — Actors are signing contracts, locations are being selected, secured and dressed, and the cameras will soon be rolling. The $2 million feature film When I Find the Ocean is scheduled to begin principal photography within three weeks, bringing local talent together with well-known actors for a family drama set in the civil-rights era South.
"We'll start out shooting here in the Shoals," according to Shoals filmmaker Tonya S. Holly, the movie's producer, director and screenwriter. "We'll shoot here for six weeks, then shoot in Selma for a week and finish up with a couple of days of shooting on the Gulf Coast."
The story of When I Find the Ocean takes place in 1965 Alabama, during an era of tremendous change and intense controversy. The script follows the adventures of an 11-year-old girl (played by Holly's daughter, Lily Matland Holly) who believes that the creek behind her home will carry her to the ocean.
"It's about a little girl who believes in her dream and chooses to follow her heart," explained Holly, whose Shoals-based Cypress Moon Productions company is making the film. "By the end of the story, she has to face and overcome a number of obstacles that stand in her way. It's about family and love and friendship, and the story combines drama, adventure and a sense of history."
More than 30 people have been hired for the film's production crew, with another 15 expected to join the project later this week. Duties so far range from casting and location scouting to work by carpenters and painters who are busy transforming houses, buildings and other local sites into authentic period locations.
"We have a 70/30 split among the crew," Holly added. "Thirty percent of the people working on the film are professional film people who are coming in from outside the area specifically to work on this project. The other 30 percent is made up of talent from Alabama, which is unbelievable. We're using as many people as we can from this area and all across the state."
Production of When I Find the Ocean marks the latest step in the area's ongoing attempt to develop the Shoals into a destination point for filmmakers. Those efforts are being orchestrated by the Film Commission of Northwest Alabama, which is temporarily housed at the Shoals Chamber of Commerce offices in Florence.
"This is absolutely fabulous news for our local film industry," noted Nancy Gonce, who chairs the film commission's board of directors. "Tonya has brought this project from dream to reality — from concept to production. This is what has to be done with all our development projects if we're going to build our area into a center for film production."
Cypress Moon is in the process of purchasing Muscle Shoals Sound Studios, on the banks of the Tennessee River at the entrance to Riverfront Park. Between now and March 15 — when the sale is expected to be final — the company has set up temporary offices at what Holly intends to call Cypress Moon Studios at Muscle Shoals Sound.
"We're hard at work on preproduction," added Holly, a veteran producer and casting director whose credits include the Oscar-winning Blue Sky, Body Snatchers, Toy Soldiers and Tuskegee Airmen.
She made her debut as a director and screenwriter with The Mirror, an award-winning short film shot in the Shoals two years ago.
"We'll be able to use the studio as our headquarters to finish this film, then move on to many, many other projects we have planned," Holly said. "Once people see that it can be done — and once they see the economic impact this can have — I think this first feature we're doing will inspire interest among other filmmakers."