FANTASTIC FEST 2016 INTERVIEW: LEE MAJORS ON BECOMING BROCK WILLIAMS FOR ASH VS EVIL DEAD
10/2/16 9:59 PM by Heather Wixson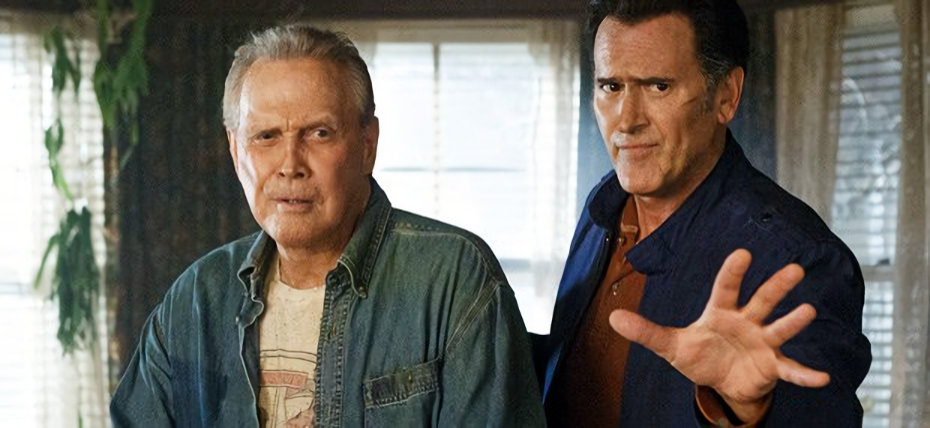 Last week at the 2016 Fantastic Fest, Daily Dead had the opportunity to sit down for a quick chat with legendary actor Lee Majors, who has been a fixture on American television since the 1960s, and has now joined Starz's hit series Ash vs Evil Dead to play Brock Williams, Ash's estranged father who still lives in Michigan and must contend with the infamous legacy his son has left behind.
Check out what Majors had to say about joining the AvED family, his career, what's next for him, and more. And be sure to check out the first episode of Ash vs Evil Dead when it premieres later tonight on Starz at 8:00pm ET.
[Spoiler Warning – Events from the first few episodes are discussed.]
Great to speak with you today, Lee. One thing that's always been apparent to me when chatting with anyone from this show, is that this whole team is a real family. Has that been your experience as well?
Lee Majors: Absolutely. The kids [Dana DeLorenzo and Ray Santiago] are so wonderful, and Lucy Lawless, well, she was a sweetheart to work with, too. In the third episode, there's a moment where Brock is trying to pick her up in a bar, with no success, and it's very funny! It's just been a joy. All of them are great!
Ted Raimi, who is Sam [Raimi]'s brother, comes into the fold this season as Ash's long-lost high school friend, and Ted is just hilarious. You could look at him and laugh, he's just so funny in normal life. Anyway, that's how they got me in, and I'm just happy to be here.
I'll tell you, I've got to take my hat off to Starz, because they are probably the only network that would put this show on the air. And kudos to Starz, because they let them do their thing, and for the fans who like this stuff, they eat it up! They really love it! They've got a great fanbase, and this season is going to really build the show and these characters for them in some great ways.
What I love about Ash vs Evil Dead is that there's a lot of humor and a lot of great slapstick gore, but at the core of it, there are these really great characters. You wouldn't care if there weren't good characters. What was it about Brock that you connected with as an actor?
Lee Majors: Well, there's the chance to do something different, and Brock's very complicated. He doesn't like his son Ash because he thinks he murdered his daughter, and then it gets competitive between them. In the third show, it gets very competitive between Brock and Ash. And as it goes along, I pull some softness out of Bruce's character. We're trying to show that there's more to him than just chainsawing Deadites and throwing out funny lines. That's my job, because Ash doesn't know his dad very well. He left me there in that little town, and I lost my hardware store because nobody wanted to do business with the father of "Ashy Slashy." I just love getting to throw in some fun moments for fans of my work and of this series.
There's a moment in the show where Ash shows me his hand for the first time, and I tell him it looks like a piece of crap made in China, and then he's showing me this picture, to which I respond, "Who are you looking for, Bigfoot?" Because I fought Bigfoot in The Six Million Dollar Man, so those were just two fun references. We got to do a little of that from time to time, so it was quite fun for me.
You've been a fixture on television for so many generations of fans; was this your way to "reinvent" yourself for a whole new generation?
Lee Majors: Definitely. I've stayed busy over the last few years, where I played this father on Raising Hope for three or four seasons, and Shirley Jones played my wife. Then, I was playing Scott Baio's wife's father in his series [See Dad Run] on Nickelodeon, so I've been playing a lot of fathers lately, and they've all been good experiences. One thing I'm excited about is that I'm going to do a film in November, in Michigan, called Dead Rising, which is based on the video game. I guess I'm going to be fighting a lot more "dead things" again for that.
But because I had The Big Valley in the '60s, The Six Million Dollar Man in the '70s, and The Fall Guy in the '80s, it feels good to get another generation of work in there.
Was there a moment for you in particular that really was your favorite aspect of being a part of the second season of Ash vs Evil Dead?
Lee Majors: When they asked me! Honestly, I was honored and blown away when that happened. And shooting for me went by so quickly. I did it, and it's a blur to me now, but I just enjoyed every moment of it. I hardly left the set ever, too. Whenever they would say, "Cut!", I'd sit down and just hang out. I loved being in that environment again and my entire experience on the show was all just wonderful for me. Couldn't ask for a better cast or crew to work with than the one on Ash vs Evil Dead.
© 2010 – 2016 DailyDead.com