Regular Cast
Terence Knox – Sgt. Clayton Ezekial "Zeke" Anderson
Stephen Caffrey – Lt. Myron Goldman Steve Akahoshi
Tony Becker – Cpl./Pvt./Spc. Daniel "Danny" Percell
Stan Foster – Spc./Sgt. Marvin Johnson
Ramón Franco – Pvt./Spc. Alberto "Ru" Ruiz
Miguel A. Núñez Jr. – Pvt./Spc./Sgt. Marcus Taylor
Dan Gauthier – Lt. John J. "Johnny" McKay (1989-1990
Kim Delaney – Alex Devlin (1989-1990)
John Dye – Pvt./Spc. Francis "Doc Hock" Hockenbury (1989-1990)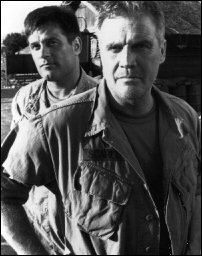 Tour of Duty was an American television drama series on CBS which ran from September 1987 to April 1990. The show follows an American infantry platoon on a tour of duty during the Vietnam War. It was the first television series to regularly show Americans in combat in Vietnam and was one of several similarly-themed series to be produced in the wake of the acclaimed Oliver Stone film, Platoon. The show was created by Steve Duncan and L. Travis Clark, and produced by Zev Braun. It ran for three seasons as 58 one-hour episodes.
Not simply an action program, Tour of Duty was also ground breaking as it addressed the issues of racism, suicide, fragging, terrorism, civilian deaths, drug abuse, and the shattered lives and confused feelings of those troops who finally made it home alive. The story focuses mainly on Bravo company's third platoon under the command of Lieutenant Myron Goldman (Stephen Caffrey), and Staff Sergeant (later Sergeant First Class) Zeke Anderson (Terence Knox). The series, and particularly the first season, can be considered the Vietnam War equivalent of the classic 1960s series Combat! which was set in World War II, with Goldman being analagous to Lieutenant Gil Hanley and Anderson being analogous to Sergeant Chip Saunders of Combat!, although Tour of Duty was even more gritty in content.
Lee appeared in 5 of the last 6 episodes of the third and final season as a combat weary lifer, 'Pop' Scarlet, who had been up the ranks of the military and busted back down again during his career. Also featured in one of the episode was Pop's son, played by Lee's real-life, Lee Jr. The episode saw an estranged father and son reunited in the midst of war, the pair at odds with each other's past relationship. The story was close to home and mirrored in parts Lee and his son's actual off-screen relationship over the years. Fans were delighted to see the pair together onscreen and sharing a bulk of the episodes running time. The ending of the episode fitting in well with the series re-occurring theme of love and loss.