LEE MAJORS, TV's former "Six Million Dollar Man" and "Fall Guy," is going for laughs in 'Out Cold.' The funny new flick, also starring FLEX ALEXANDER and A.J. COOK, is about a snowboarder who wants to open his own park. ET's JANN CARL has the scoop on Lee's role as a bad-guy tycoon!
Entertainment Tonight – November 30 2001
Transcript of un-aired interview
JANN CARL: What was the experience like on this movie, because it's a little wacky?

LEE MAJORS: When I read the script, I looked briefly at my part to see if I wanted to do it. I loved the character. I modelled it a little after my friend DONALD TRUMP, but I took it one step further and made this guy from Texas. That way I could be a little broader and more obnoxious.

The kids on this movie are cast perfectly. To mesh in to that was a lot of fun.

JANN: How much fun is it playing the bad guy?

LEE: When I took this part, I thought, People will be shocked to see Colonel Steve Austin ("The Six Million Dollar Man") and Colt Seavers ("The Fall Guy") doing something this crazy. That's why it appealed to me.

JANN: Did you get to see anything of the extreme snowboarding?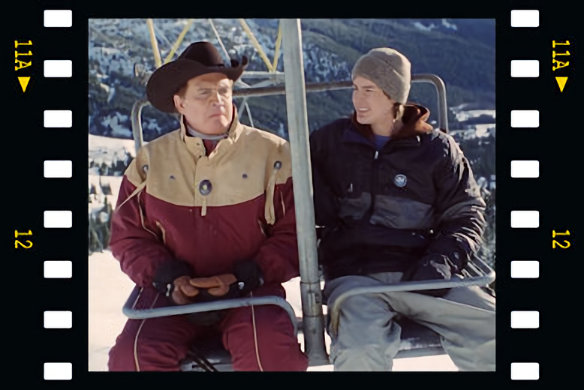 LEE: I didn't see a lot of the other scenes. When I read a script, I don't really read any of the other parts. I want to be surprised about what's coming next. It's the same when I go to see the movie. I didn't know (what to expect). They really fooled me on the dream sequence. I thought that was a whole different scene. I fell out of my seat, it was so well done. I saw it twice. I went again last night, and I laughed just as hard.

JANN: Did you ski at all?

LEE: Well, you saw me take off the mountain. As I fell down, they carried me out and put in a real pro that made me look good the rest of the way down.

JANN: I read an article recently that said you've had some really bad problems with your knees.

LEE: Going back to the "Big Valley" days, getting on and off a horse is not easy, and I did all the stunts on that particular series. I used to calf-rope. Jumping off and running roping took the cushion out of my knees. I have no cartilage in my left knee. So I'll probably have to get a couple of knee
replacements before long. I'm kind of waiting for it to come out in pill form. The longer you wait … you don't want to have to do it twice.

JANN: You're really going to have to do the surgery?

LEE: That's what they say, and that's why I'm going into comedy. No more action for me.

JANN: When I think about you in "The Six Million Dollar Man," you really did punish your body on that series.

LEE: I'd really have to run. On the show, where I was running in slow motion, I was really running full speed — a 50-yard sprint right at the camera and focus on the marks every two yards. And if they wouldn't get something, they'd say, "Okay, do it again." Probably 10 times later, they got the take.

I used to love to jog, too. I used to jog when I was on location. Now I tell people that run to stay on the treadmill or on grass. Don't run on the pavement because it really pounds your knees and it's the worst thing you can do.

JANN: I'm seeing you more and more. No more Florida? Are you coming back to Hollywood?

LEE: I was taking care of family matters. My mother passed away last January, so there was nothing left for me in Florida. Naturally, I wanted to get back to work in L.A. If you're gone for 10 years, people think you're dead or retired, or you don't need the money, or don't want to work.

I started when I was in my early twenties, and I didn't stop until I pulled the plug on "The Fall Guy" after five years. That was the first time I had burnout. It was about the seventh or eighth series, and all of them were action and 18-hour days. You know how it is. So I'm just coming back now.

This is a way for me to come back and say, "I can do it without being the action hero." Hopefully, I can do comedy. I envy LESLIE NIELSEN. I said, "Gosh, I wish I'd get a chance to do some of those." I'm not envying SCHWARZENEGGER or WILLIS. I've been there and done that. But I do envy Leslie Nielsen. every time one of his comedies comes out, I go see it. He's a funny man.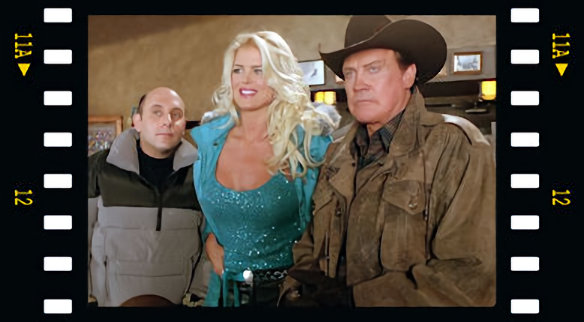 JANN: So you're actually making the move. Have you bought a house in L.A.?

LEE: I'm not at liberty to discuss that. But, you know, you'll be seeing a lot more of me. Our business has changed so much, and there are so many young executives. I flew in last year. I went to interviews. I remember one casting girl saying, "Your résumé looks quite impressive. It's long." But if they have to look at the résumé, then I'm in the wrong office.

JANN: In some ways, that must get the adrenaline going again.

LEE: It's fun, but you feel like you're starting all over again. Someone asked, "What's the best advice you can give someone starting out today?" I said, "I have no idea."

I'm approaching nearly 40 years in this business, since 1963. I was lucky then to get under contract with Universal. I lived on that lot for 10 years. Then FOX, I lived there for about five years. Now I'm starting out. That's pretty scary.

JANN: Last time we talked, I said, "You're dating too much, and you should settle down." And so you have gotten engaged.

LEE: You said, "Are you going to do it? Are you going to get down on the bad knee?" And I said, "If you have a soft pillow." Actually, it was at the Super Bowl last year.

JANN: So, when is the wedding date?

LEE: Probably this coming year, you know with the move and all. We've been together for seven years. So it's about time.

JANN: But you said probably next year. That's a guy answer. I want a date.

LEE: I don't have a date — just like I'm not telling you my address or phone number either!