Regular Cast
Scott Reed –  Lee Majors
Nigel Conway – Mark Addy
Julian Edgbaston Bowles – Alex Jennings
Kimberley Reed – Julienne Davis
Dave Stamp – Nigel Lindsay
Sandi – Matilda Zielger
Roderigo – Carlos Douglas
Too Much Sun, a 6-episode British sitcom, was written and produced for the BBC by Margaret Oberman and Jim Piddock. Oberman was a writer on the long-running US comedy Saturday Night Live between 1981 and 1985 and Piddock an English born actor who sold his first screenplay in 1990 for a mid-six figure sum and since then splits his time between writing/producing and acting.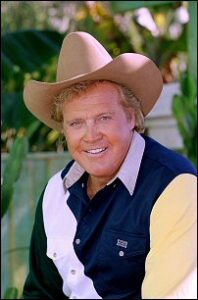 Lee filmed the series on location around London and in front of a live studio audience, in England, during November and December 1999. The series was transmitted on BBC1 at 10.35pm between the 27th of October and 1st of December 2000. The fact that the Beeb waited almost a year before putting the show on air, says alot about the corporations lack of faith in the finished product. Coupled with various scheduling issues, airing at different times throughout it's short run, plus a lack of any promotion on the BBC itself, did nothing to help the series find an audience. With some VERY un-PC jokes and characters the series was panned by critics and had some of the lowest debut ratings for a BBC sitcom. That said, the show does stand up to repeat viewings and should be commended for it's honest portrayal of two Brits who will do anything to get laid and/or get a job. With humour very reminiscent of the more successful "Men Behaving Badly" it's disappointing the series was never re-aired and had a chance to be 're-discovered'…
Premise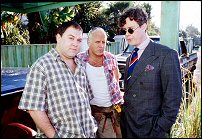 Aristocratic, English actor, Julian Edgbaston Bowles ( Alex Jennings), and earthy, left-wing English writer, Nigel Conway (Mark Addy), seek fame and fortune that has eluded them in Britain, by moving to Hollywood. But things aren't any better there. Their serious lack of talent prevails, and instead of working, they just hang around the guest house, which they rent off ageing, "TV Cowboy" Scott Reed (Lee Majors) and his beautiful but dumb trophy wife, Kimberley (Julienne Davis). Bitter at everyone else's success – and their own lack of – , they slob out in the hot tub, spitting bile and pouring scorn on the rich and famous. It's doesn't help that another ex-Brit, the slow-witted and chauvenist Dave Stamp (Nigel Lindsay), has a local plumbing job which has him mixing with the likes of Oprah Winfrey and Jack Nicholson!