The Six Million Dollar Man is still pulling off amazing feats… his time he has rebuilt himself as a comedian
Rob Chilton / TV Times, February 17-23 2001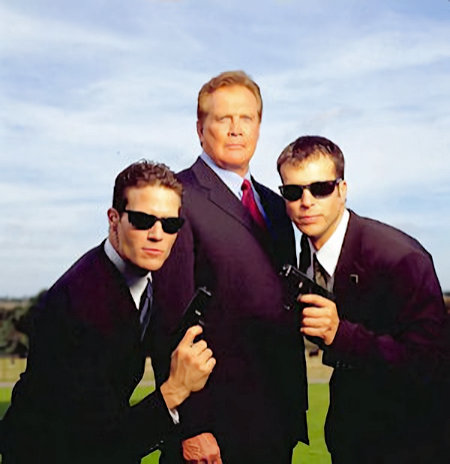 My first impressions of Lee Majors is bizarre and scary. Dressed as Abraham Lincoln (I'll explain later) he wheels round and glares at me when I ask for an interview on the set of a C5 TV film he's shooting just outside London.
'Not now' he grunts. Later, when I meet him at his hotel, 61-year-old Lee is wedged in a couch with a glass of red wine, a cigar and a bowl of nuts. He is spritely and stocky with shoulders that go on for miles. His skin is so tanned and leathery that i have trouble picking him out against the leather of the couch.
Lee Majors is a man's man, a bit of a cowboy. In fact, wearing chaps, falling off horses and doing fight scenes are how Lee started his acting career in the Sixties after an American football career was cut short by a back injury. He does a 1000 sit-ups a day to prevent the pain surfacing. 'I'm in good shape because of the shows I've done', drawls Lee. 'The Six Million Dollar Man may have been in slow motion but I was running my butt off!' Fortunately, no running in the C5 Naked Gun-style film Hotel in which he's disguised as Abe Lincoln to foil terrorists.Lee & bodyguards
When his stories begin to roll out, all we're missing is a campfire. There's the one about drinking tequila with John Wayne; breaking his nose five times (once accidentally bu Linda Evans' head); being directed by an unknown Steven Spielberg ('he was weird) and bumping into Jennifer Aniston and Brad Pit the other day in London. 'They're a very nice couple. They're going through the same stuff as me and Farrah (Fawcett). It's difficult when you both have big careers. It puts a strain on things. I hope they stay together.' Lee and the Charlie's Angels' star were the toast of Hollywood during their nine-year marriage but pressures of work drove them apart – he remembers one year when they spent just two weeks together. Rumours of drink and drugs now surround Farrah, the most embarrassing of which was an appearance on David Letterman's US talk show in which she slurred her words.
Were there wild times in those nine years? 'We were too tired to be wild! There were never anu drugs, maybe a little marijuana. She would drink a glass of Cgampagne now and then. She didn't smoke. She had a little temper. I don't beleive all this stuff about her being on drugs now – she got involved with some bad people. I think she was trying to be cute on Letterman but the joke backfired.'
Now Lee's engaged to Faith Noelle, his companion of the last six years and 35 years his junior. 'I used to drink a bottle of vodka a night. And Faith would keep up with me! two years ago we stopped drinking and smoking. At my age I need someone who can make me slow down. She's good for me. We'll get married when I slow down.'
He shifts in his couch and I sense our time is coming to an end. Any regrets? 'Only one. Missing out on the role in Midnight Cowboy that went to John Voight. It hurt me at the time. But I look back and I've spent more hours in front of the camera than he'll ever dream of and made more money than he'll ever dream of.' And with that, he rides off into the sunset. Well, kind of.
The life & times of Lee Majors…