WHY FARRAH SPLIT FROM LEE
Sue Reilly, People magazine, August 1979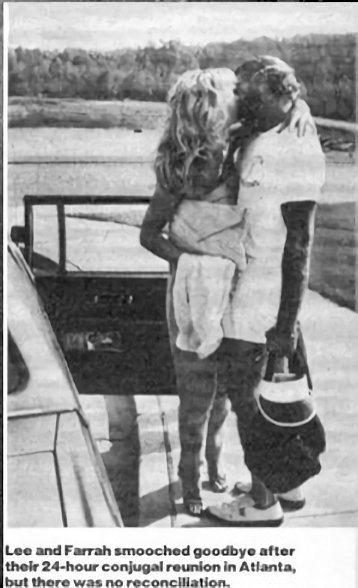 It was at the beginning of the national tour for her new movie, Sunburn, that the new just plain Farrah Fawcett went bravely and painfully public with an announcement of her separation. At 32, Farrah – sometimes giddily and confidently, but often tearfully – was going it alone. After months of denials, she suddenly declared the breakup of Hollywood's bionic couple. After 11 years she had shorn Lee Majors, 39, from her life as well as her name.

Farrah will move out of their French provincial mansion in Bel Air. "I want to give both of us time to try to adjust to what has happened," she explains, "I don't know if we will ever get back together again, and that scares me," she adds, biting her lip. "I feel so confused." The timing of the official declaration (by her manager-mentor, Jay Bernstein) stunned the swarming press as well as Paramount Pictures which is distributing Sunburn. Dismayed studio flacks feared the ploy by the Machiavellian Bernstein to hype Farrah rather than her intermittently entertaining comedy-mystery (which he co-produced).

Farrah has a more heartfelt explanation, "When Lee married me, he married a very compliant person who just wanted to cook his meals, clean his house and be dependent," she says sadly. "I still like to cook his meals and clean his house, but I'm not dependent anymore. I feel bad for Lee. I care about him so much, and he is trying to be understanding and protecting."

Indeed shortly after her separation statement, a stoic Majors flew to Atlanta for a one-day reunion mid tour. As he touched down, Farrah grew yet more anxious. Lee, clutching a bottle of champagne and a single yellow rose (reminiscent of the 13 he sent her after their first date), whisked her off to dinner at the home of Rankin Smith. He is owner of the Atlanta Falcons football team and their investment partner in a local sports complex. The Fawcett-Majors had been together only four weeks in the past eighteen months. Despite their estrangement, Lee escorted Farrah – via her private pass-key elevator – to her Hyatt Regency tower suite and stayed the night.

The next morning Farrah's hairdresser and makeup woman inevitably – but affectionately – joshed her. "Guess why I'm so relaxed and happy?" Farrah teased back. The mood lasted through much of a long, hot day as Farrah and Lee dutifully toured the Falcon's training camp. The three-limo entourage of Farrah's eleven ladies-and-gentlemen-in-waiting followed but discreetly turned their backs as the couple smooched goodbye after their 24-hour conjugal reunion.
"I love Farrah and I always will," Lee declared later. "There is nothing I would like better than for us to work out our problems." Farrah, off on another leg of her publicity trip to New York, said only, "I'm so uncertain, but I feel good and honest about myself."

The marriage may be a casualty of success – Farrah's. The University of Texas beauty queen met Lee in 1968 two weeks after her parents drove her to Hollywood. She ordered a Scotch and Coke, then nervously excused herself to get sick in the ladies room. Majors was already an established ABC star on The Big Valley, and when the ex-football player later scored as The Six Million Dollar Man, Farrah was his cheerleader. A housewife as much as a model (Ultra-Brite and Wella Balsam) Farrah's contracts stipulated that she be home in time to cook dinner for the man she fondly called "a big grumphead". Soon, though, she went on to Charlie's Angels, that famous poster (the biggest selling in history) – and super celebrity. At the peak of their fame, each deserted TV.

Then, as she waxed, Lee waned. The Norsemen, his anticipated springboard to movie stardom, bellyflopped last year. As Fawcett contemplated their split, Majors was in Manilla waiting to start a new movie, only to hear the financing hadn't come through. Farrah, meanwhile, has kept her tenuous hold on the public. Her debut as a lead in Somebody Killed Her Husband last year earned her decent notices and she says "I learned a lot." It's box office failure didn't reduce her price – $750,000 per film – and in Saturn 3, since wrapped, she has gained further star clout: approval of director, script, cinematographer and co-stars (she chose Kirk Douglas).

Farrah has still not recovered fully from the backlash of her clamorously, possibly disloyal walkout from Charlie's Angels after one year. (Co-producer Aaron Spelling sued her for $7 million for breach of contract and the settlement calls for her to play three more episodes this season.) "The whole law-suit almost sank me," she sighs. "The industry was furious with me and hostile because I was a TV sex symbol who wanted to to be an actress. People thought I was really pretentious, and for months no one would touch me." She lost Foul Play to Goldie Hawn and Coma to Genevieve Bujold, Farrah claims. "I was poison," she recalls. "But I just wasn't going to give up."

A new Fawcett emerged from the ordeal. "I was brought up to be a nice, quiet,polite person," she notes, "and I have always had a hard time being forceful. My natural inclination is to defer to others, particularly men. So I was not concentrating on women's liberation, and people have tried to make me feel very guilty about it, especially the sex symbol things. What's funny," she continues, "is that I have become a different person. You can't survive that kind of crushing attack and still be an innocent. I had to grow up and I did."

The first halting steps towards self-reliance, however, may have been also have been the first ones out of her marriage. "I started to rely less on Lee and my other advisors," she reports. "I began to think about what I wanted and needed, for myself.. That meant saying an occasional discouraging word and giving up the continual smile," Farrah smiles. "Sometimes it surprised even me!"

But it also causes trauma, and the prospect of divorce produces guilt for the lapsed Catholic. "Lee thinks that because I don't need him as much anymore I don't want him, and that isn't true." she says. "Our relationship has got to be different because I am different. But it's so hard for him to understand." Tears well in her emerald eyes, and she starts to weep softly before adding: "I'm not sure I do myself. In some ways I'm much happier than I used to be when all I ever thought about was pleasing everyone else. I came dead last."

Her marriage faltered because of that sloughing off of TotalWomanhood, Farrah insists, not taking on a different man. She pooh-poohs persistent rumor of "my supposed affair" with the youngest son of TV's Dick Van Patten, tennis-ace Vincent Van Patten. "I can tell you that if I was fooling around, no one would find me," she replies to one reported tryst in a Palm Springs motel. "Those rumors used to embarrass me terribly, and I just didn't know how to cope," she shrugs.

"Vince and his parents are some of my best, kindest, most wonderful friends and I'm sorry for the embarrassment these stories have caused them."

Fawcett's budding sense of authority extends to her $10 million contract with Faberge to promote their not ragingly successful lines of "Farrah" beauty products. "There are about 7,000 shampoos on the market, and they all basically have the same ingredients," she admits. "Our gimmicks are minerals, the protein keratin and some vitamins. I think they'll help, although we haven't come up with scientific proof yet." Faberge carped that she didn't give her all, but explains Farrah, "I couldn't say, straight faced, "Don't you just love me, and you'll love my shampoo." With new packaging and a new yet unfinalized product name she is recommitted, and next month will launch the line in Egypt and Israel, of all places.

Farrah is putting equal energy into acting. "I did not attend the Royal Academy for 12 years, but I am a professional trying to do the best scripts I get," she asserts. "No one sends me the scripts that Faye Dunnaway or Jane Fonda are considered for, but you have to remember that Jane started out doing lightweight stuff like Barbarella."

The analogy, fair enough in itself, suggest Farrah's new sense of strength and direction.

"The last four years have been filled with so much pain, so much hurt," she muses. "There were days when only my discipline got me through. I don't drink, use drugs or depend on any kind of crutch. I've just got me. And sometimes with all the negative energy coming toward me, I want to rent a billboard and say, 'Hey listen, folks, I'm not such a bad person." Then the insecure Farrah is replaced by the new assured Farrah, and she says proudly,

"I'm getting where I want to go. I'm determined to survive.