by Josh Grossberg
Oct 22, 2003, 10:25 AM PT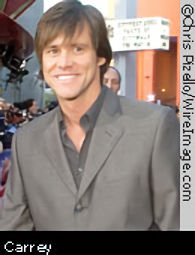 Jim Carrey is normally one of Hollywood's $20 million men. Looks like he's taking a huge paycut.
The rubbery-faced funnyguy is ready to go bionic in a send-up of The Six Million Dollar Man.
Unlike the classic 1970s ABC sci-fi series starring Lee Majors, the movie–which has long been in development as a by-the-numbers suspense thriller–will now be transformed into a comedy vehicle, allowing Carrey to parody the action genre much in the way Mike Myers poked fun at James Bond movies in Austin Powers.
Old School director Todd Philips is onboard to helm the flick for Dimension Films.
Carrey hatched the idea of doing a comic take on the character and, along with managers Jim Miller and Eric Gold, recruited Phillips, whose résumé also includes Road Trip.
Phillips immediately sparked to the concept and agreed to pen the script with his Old School writing partner Scot Armstrong, as well as direct.
Dimension, which owned the rights to the Martin Caidin novel Cyborg on which the original show was based, readily agreed to revamp the project, a no-brainer considering Carrey's last comedy, Bruce Almighty, grossed a heavenly $470 million at the international box office.
"The teaming of Jim and Todd is the perfect creative combination to launch the franchise," says Dimension chief Bob Weinstein. "Todd is a director with proven instincts and Jim is a superstar."
Universal, which produced the original Six Million Dollar Man for ABC from 1974 to 1978 (and its spinoff, The Bionic Woman), still owns the rights to the TV series and is coproducing.
Carrey, of course, would play Air Force Colonel Steve Austin, who after a horrible plane crash, is rebuilt with experimental bionic limbs that give him superhuman strength and speed. Becoming an agent for the Office of Scientific Investigation, he uses his new powers to fight injustice and battle everything from mad scientists to Big Foot.
No word whether Majors or Lindsay Wagner, who starred as The Bionic Woman, will pop up in the picture. (USA Network plans to launch an update of latter show, which ran from 1976 to 1978).
Phillips plans to get to work on the screenplay as soon he and Armstrong finish writing Dimension's remake of School for Scoundrels, which he will also helm. Phillips recently completed shooting on Starsky & Hutch, another movie based on a popular 1970s TV staple. Like The Six Million Dollar Man, that flick–starring Ben Stiller and Owen Wilson–also put a funny spin on what was a straight drama.
Before he goes bionic, Carrey needs to finish a few other projects in the pipeline, including a remake of the 1977 comedy, Fun with Dick and Jane, which will reunite him with his Mask co-star Cameron Diaz. He's also slated to begin production on Lemony Snicket this winter for a December 2004 release and is talking with Steven Spielberg about collaborating on a remake of The Secret Life of Walter Mitty.
The Six Million Dollar Man is expected to start shooting in fall 2004.
Courtesy of EOnline.com