THE WOMAN THAT HAS LEE MAJORS SCARED... AND SHE LEFT HIM NO PLACE TO HIDE
Sally Loomis –  Mid 60's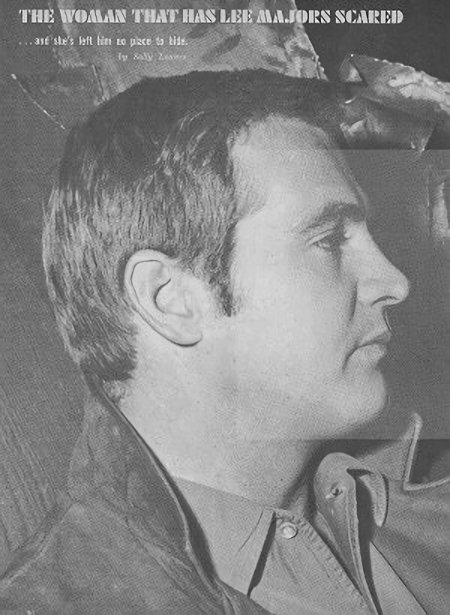 All in very short order, Lee Majors has gone from an inexperienced Hollywood newcomer to one of television's most popular young stars. His success story is even more astonishing when one learns that his role as Heath, in The Big Valley, marked, his professional debut as an actor. Recently he completed a starring role in his first motion picture with Charlton Heston, Will Penny.
Lee has also become one of Hollywood's leading bachelors—and every month the studio counts hundreds of love letters received from his fans (many include proposals of marriage).
But Lee is not the typical bachelor—not the playboy you might expect him to be. Fame and fortune have not turned his head. Lee isn't apt to be carried away in the frenzied sweep of filmdom's wild social life. He's definitely not a night-clubs and discotheques man. Not long ago he tried that, route and didn't much care for the supposed glamour life. For quite a, few weeks, Lee made the rounds of the "in" scenes like opening nights at the Cocoanut Grove and jam-packed sessions at The Daisy — but he quickly became bored with it all.
Perhaps the most talked-about aspect of his private life has been his three-year romance with Patti Chandler. Rarely does Lee get through an interview with the press without having to make some statement concerning Patti and himself.
Certainly his fans everywhere want to know what is happening on the private side of Lee's life — understandably, his long romance with Patti has kept everyone guessing. Lee's fans and the press can't help but want to know what his intentions are. In one interview he says that he has no immediate plans for marriage — that his career demands much too much of his time and that he couldn't ask any woman to take second place to his work.
On the other hand, Lee continues to proclaim his love for Patti. Recently, he said that there is a strong possibility that they might marry within the next year. But that statement, too, has that familiar ring of uncertainty to it.
In these past three years, Lee has never proposed marriage to Patti — or if he has, such an announcement was never made public. (And no young girl, not even Patti, would want to keep secret her engagement to so handsome a man as Lee.)
And so the press, the fans and the rumor mongers have run the course in their stories about Lee and Patti. And the stories have gone beyond the realm of reality.
Lee has often explained why he has delayed taking any steps toward a permanent relationship with Patti — perhaps his simple and logical explanation wasn't exciting enough a story for the gossip columnists.
To understand why Lee chose to pro-long his courtship of Patti, one must understand the kind of man he is, his shaky personal life prior to startime, his relationship with Patti.
As a young boy, Lee suffered the private anguish of constantly testing the love of those who made up his "substitute" family. His real parents were killed in an accident when he was too young to be able to remember them. He was raised by an aunt and uncle who did all they could to make up for so great a loss.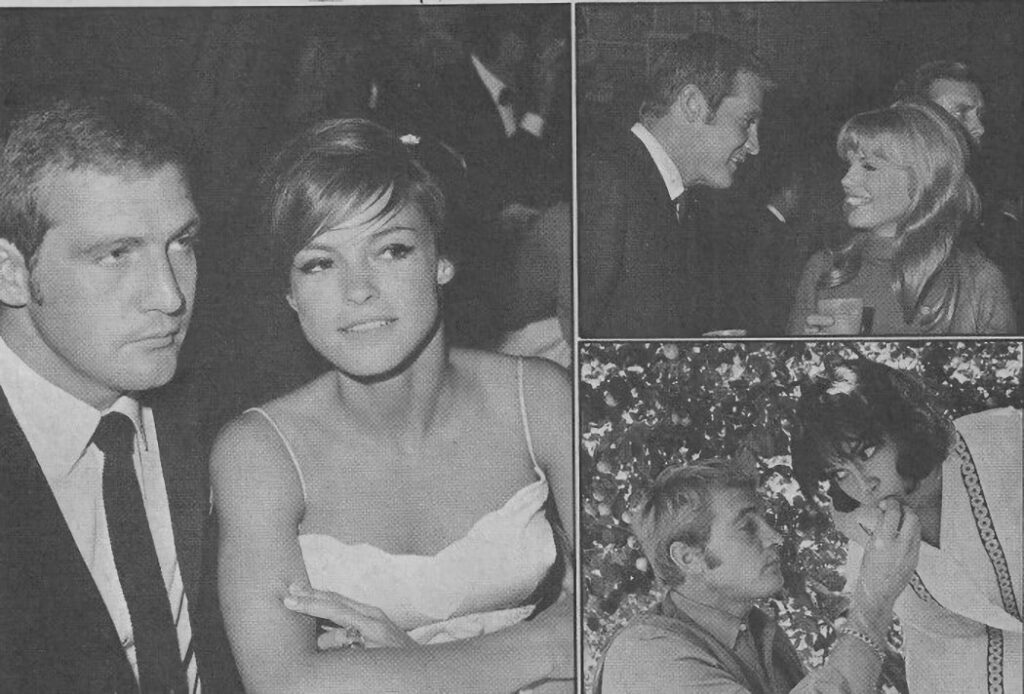 Perhaps it was his constant search for these close personal relationships with others that determined his early marriage to Kathy Robinson in 1959. Kathy became his bride at the age of 16 — Lee was 17. About a year later, their son was born.
Lee and Kathy were blissfully happy in spite of the problems of marrying so young. At last Lee had found the love and happiness of being a part of a real family — his own.
But the second year of their marriage was one filled with the problems of any youthful marriage. Lee had already decided on an acting career, they had moved to California. He held odd jobs while studying acting and the responsibilities of married life became demands that both Kathy and Lee could not fulfil together. They sought a divorce in 1961 and Kathy was awarded custody of their son.
Lee admits that he has always been one to fall into moods that shut out the world around him. He prefers to be a loner — even now there are times when he would rather be alone. Even Patti has not been able to free him from his self-imposed exiles.
During the two years following his divorce, Lee sought a new kind of freedom — one that held him responsible only to himself. He held himself to blame for the breakup of his marriage and it was then that he decided not to become involved with anyone who cared for him too much. He knew many girls, but he would not allow any serious relationship to develop — he needed that freedom of being able to walk away from any situation without the hurt that he and Kathy suffered when their life to-gether ended.
He devoted himself completely to his work and the studies of his craft. It was a lonely time for him, filled with hard work and very often long, empty hours. He often thought about Kathy and what happened between them — what went wrong.
It was then that Patti Chandler came into his life. Their occasional dates led to a friendship that soon developed into a romance that still continues. Lee has come to rely on Patti — but not to take her for granted. "She is probably the most understanding woman I've ever met," Lee says. "I don't know what I'd do without her."
Even so, Lee feels that he is not ready to commit himself completely, to try marriage again. A man divorced is less eager to try a second time; whereas a woman needs the security that comes with loving only one man — she is less interested in the social life of the singles, the dating, the occasional romances.
A man can more easily adjust to his regained bachelor status and there is not as strong a social barrier for him. He can date a variety of women with no strings attached and society will not raise its eyebrows in a frown.
Certainly Lee has given serious thoughts to a second marriage — and there is every reason to believe that Patti would make him a fine wife. But Lee must also have compared Patti to Kathy.
When he fell in love with Kathy, it was much the same kind of love that he now has for Patti. And Kathy and Lee did love each other very much — but their marriage failed. Did the passing years and maturity change him?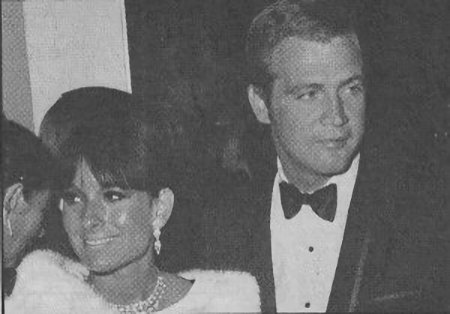 Is Lee still afraid of the possibility that a second marriage could turn out to be a second mistake? It scares him to think about the love he once had for Kathy — how it changed during the course of their marriage, how it was lost in divorce. Because he failed in his love for Kathy, does he continue to question that same kind of love that he now feels for Patti?
Perhaps the only person who can take away that fear is Patti. She has been patient with Lee during the past three years. She has managed to ignore the rumor mongers who have claimed over and over that she is headed only for heartbreak in her long romance with Lee.
But Patti won't let anything disturb her love for Lee, and she is content to stay at his side until Lee feels certain of himself, until his love grows as strong as hers