THE SIX MILLION DOLLAR COMEBACK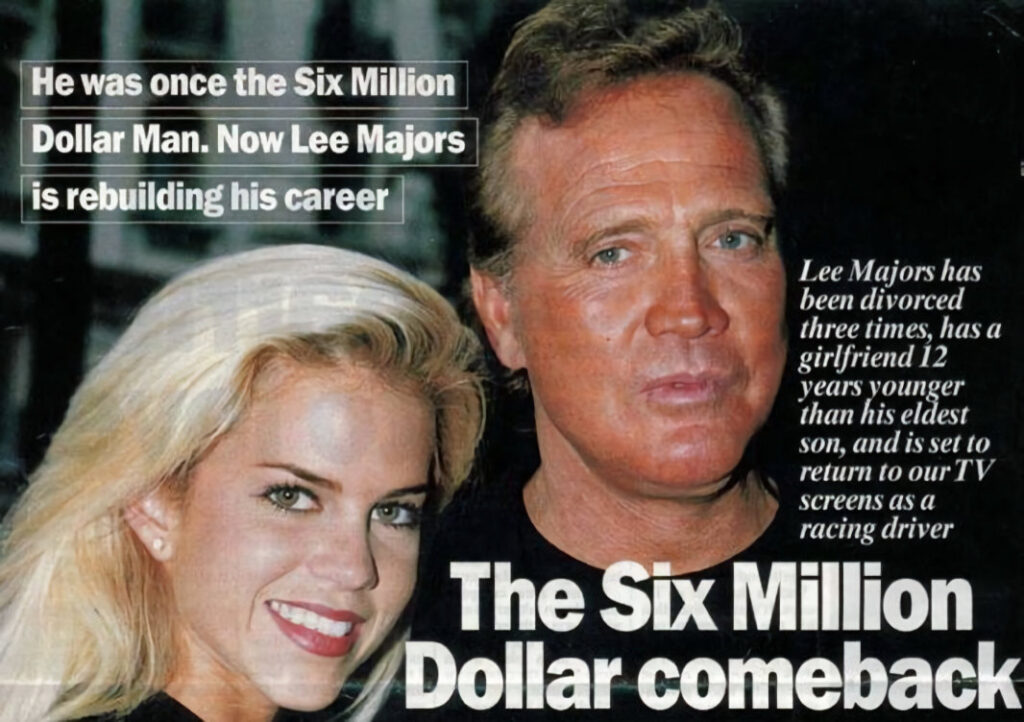 Neil Buncow / Hello magazine, 1997
As The Six .Million Dollar Man, Lee Majors was rebuilt so he could run faster. fight tougher and hear better than all his adversaries.
So it must have come as a great disappointment when the work dried up after his Seventies series came to an end. He enjoyed a brief revival with The Fall Guy. but has had no TV hits since that went off the air 11years ago.
The wilderness years have been filled with pain as his third marriage to Karen Velez came to a bitter end. The rows with his Playboy pin-up wife – mother to three of his four children-sucked Lee into a down-ward spiral and the 57.year-old turned to drink to ease the moods. "I was depressed and drinking heavily. I was a mess I didn't want to work or do anything.
Then he met Faith Noelle, his blonde lover. who is just 22. "She saved my life" explains Lee. "She set me back on track."
That was two years ago and now with the love and support of Faith – who is 12 years younger than Lee's eldest son. Lee Jr – he's ready to re-turn to prime-time TV in
'I was a real mess until Faith saved my life'
Steel Chariots. a new series based on the motor racing world, which co-stars Fomer Baywarch beauty Alexandra Paul and country singer turned actor Mac Davis.
It will be the eighth series for Lee, who married Charlie's Angel Farrah Fawcett in his Six Million Dollar Man heyday.
After several short-lived TV flops and failed efforts at big-screen movies he moved from Malibu, California to Florida in 1990, Lee lived with his than wife Karen, their daughter Nikki and twin sons bane and Trey in 3 mansion in Fort Lauderdale unil she divorced him in 1994, taking half his Six Million Dollar fortune.
Lee and Faith now live in a 19th-floor penthouse. over-looking the Atlantic. "I love it here" he says "Living out-side Hollywood does tend to take you out of the loop – people think you're dead or you don't need the work.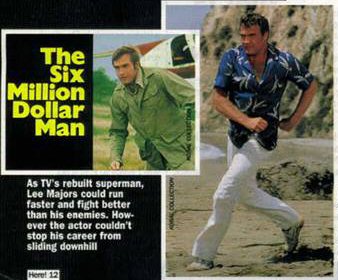 "But I don't mind that. I'd rather be here – where I can see my kids grow up and he with the woman I love.
However. Lee is unsure if he'll ever marry her. "I've been there three times – I can't seem roger it right."
He says that he cannot predict whether Steel Chariot, will be a hit. "I hope it is – but if it doesn't takeoff. I can live with that.
"I've already had more success on television than any other person deserves. So if the new show doesn't work – hey – I'll just be playing a lot more golf!"