THE LADY WHO LASSOED LEE MAJORS
By Gene Barber / TV Mirror / August 1971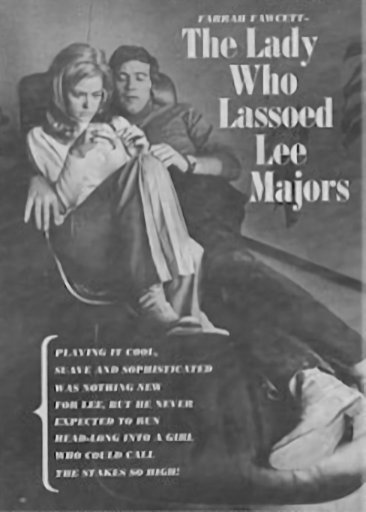 The minute Lee Majors spotted Farrah Fawcett, she was captured – or so he thought so. Farrah was a pretty, blonde, wild-eyed, University of Texas art major who came to Hollywood and did what any other aspiring young actress would do. She left pictures of herself with agents. She wanted to get into films. The first week she was in tinseltown, Lee Majors spotted her picture on a desk in a talent agency. He picked her number of her resume and called her. She wasn't in. So, like any cocky, virile TV star (he was co-starred in The Big Valley at the time) Lee left a message with her answering service. "Tell Farrah – I mean Miss Fawcett – that Lee Majors called and he'll be around to pick her up at 7:30." Lee wasn't even sure she got the message when he set out to pick up the young Texan beauty. "When I got there, she was ready," Lee recalled

And they've been a steady dating twosome ever since. It hasn't been the most blissful relationship. Emotions range from loving tenderness, to rage, and Lee Majors finds himself the captured one, trapped by his love for Farrah Fawcett.

Lee has confessed that he wants to marry Farrah. She, however, is a reluctant beauty. The reason? Her career, thanks to Lee Majors' interest, is beginning to surge. Lee has opened new doors for her. Now she wants more doors to open, and she doesn't want marriage to close any of them.

Within a week after their first meeting, Lee was supervising her career. As an innocent in Hollywood, she had signed the first piece of paper put in front of her – a contract that gave an agent 25% of her earnings. Lee got her out of that contract and placed the strikingly beautiful Farrah with his own agent. He also introduced her to the talent program at Columbia, where she did many small roles in Screen Gem television shows.

During this career incubation, Lee played the part of the swaggering, domineering, always interested helpmate. His affection for Farrah grew. But he always held himself in reserve.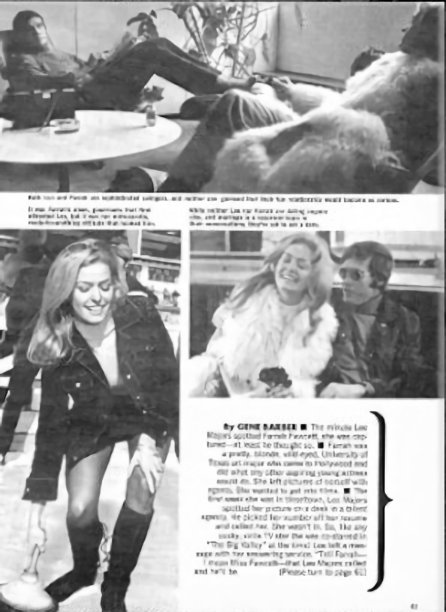 After all he had a reputation for being one of the swingingest new young men in Hollywood. He squired the most beautiful actresses around tinseltown. Among them, Katharine Ross and whispers tell he dated Jeannie Martin – before she separated from Dean. He cuts a dashing figure on the beaches from Malibu, where he owns a three-bedroom home on three acres , to Manhattan beach, where he's the terror of the "in" spots.

In his relationship with the exotic Farrah Fawcett, Lee tried never to lose sight of other women. He worked diligently to keep both his reputation and his relationship with Farrah in harmony. He realized he loved her, but he also knew that in many ways, his emotions were momentarily impractical.

Then, Lee became the victim of his own handiwork. He had been offered a co-starring role – as the stud – in "Myra Breckinridge." He turned it down. But he managed to get Farrah into the film – with billing. It was a big break for her.

"Now her career is zooming," Lee ruefully told an interviewer. "That's my problem."

She has a number of offers. Among them, roles which would take her on locations away from Hollywood – and Lee. That bothers him. He wants to marry Farrah now, although for two years he played it very cool, and insisted that their relationship remain close, but not merged. He believed he could have more fun remaining single. And Farrah feels that she can move ahead careerwise with greater comfort if she isn't married. But now Lee realizes just how much he wants her for his wife.

Lee is just another man who chased his girl until she caught him. Now he's hooked, hopelessly in love, and anxious to marry. But the lady isn't