So, Amazon UK have updated there website with order, release date and extras details for The Six Million Dollar Man boxset.
Priced at, as of 13 July 2023, £159.99. The set is down for release from Fabulous Films on 23 August
Product details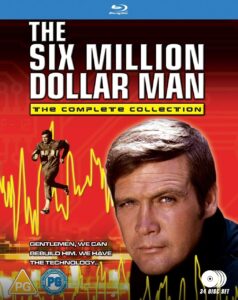 "The Six Million Dollar Man" was based on the book by Martin Caidin, and with but a few minor changes was first broadcast as a made-for-TV movie in the mid 70's. Steve Austin an astronaut who crashed during an experimental aircraft test is a man barely alive and clinging to life.
At that point the government decided to use secret funding for a secret bionics project to create the next generation of covert operative -an agent with bionic limbs that give him superhuman strength and enable him to run speeds beyond 60 miles per hour, along with a bionic eye that allows him to see details over a mile away. Col Austin awakens after this almost fatal crash to find that he now processes integrated bionic technology. For his second chance at life he is coerced into taking on specialized missions for the OSO (Office of Strategic Operations).
Nearly 25 hours of Bonus Features, including:
Exclusive new interviews with Lee Majors and Lindsay Wagner
All three pilot movies of The Six Million Dollar Man
All three reunion movies of The Six Million Dollar Man
All 3 crossover episodes of The Bionic Woman
27 exclusive featurettes
14 Audio commentaries and other interactive features, including 6 PDF scripts
Season Episode guide booklets / Galleries
Rated ‏ : ‎ 

Parental Guidance

Language ‏ : ‎ 

English

Package Dimensions ‏ : ‎ 

17.3 x 13.7 x 10.6 cm; 600 Grams

Media Format ‏ : ‎ 

Box set

Run time ‏ : ‎ 

5395 minutes

Release date ‏ : ‎ 

21 Aug. 2023

Actors ‏ : ‎ 

Lee Majors, Richard Anderson, Martin E. Brooks

Studio ‏ : ‎ 

Fabulous Films

ASIN ‏ : ‎ 

B0C53TZ5Y4

Country of origin ‏ : ‎ 

Austria