Lee Majors at Elvis Week in Graceland, August 202
On a Tuesday morning in August, as fans packed the Graceland Soundstage for a Conversations on Elvis event. The three-hour-plus talk show-styled program was hosted by longtime Elvis Week personality Tom Brown.
As part of the program, Brown chatted with various friends and celebrities who knew Elvis over the years, including Osmond Brothers member Jay Osmond, "The Big Valley"/"The Six Million Dollar Man" star Lee Majors, and Presley's longtime girlfriend, and now successful songwriter, Linda Thompson, who made her first-ever Elvis Week appearance.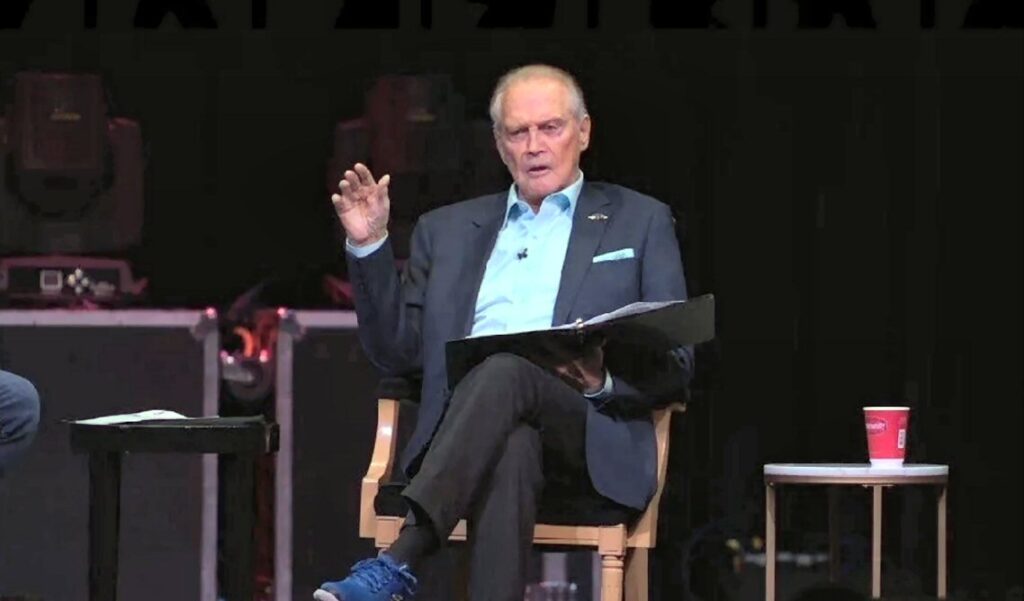 Lee shared some amusing anecdotes about the singer, whilst he said he was also working on his memoirs. Majors arrived on stage wearing what host Brown described as "blue suede shoes." "I got the memo," quipped Majors.
Majors told how he and Presley had first met in 1967 during production of one his movie musicals. "He was filming 'Clambake,' filming it at the Four Star lot and that's where I was filming 'The Big Valley,'" Majors recalled.
Their friendship contributed to Lee having a part in "Clambake," playing a waiter in the background of one of Elvis' scenes, unbeknowst to 'The King'. "They call it photobombing now," joked Majors.
Majors also talked of seeing Elvis' live comeback in Las Vegas in 1969 and visiting him regularly in the city. "Every year, I would go and drive over and see [Elvis' shows]. A mutual respect was really born there," said Majors, who delighted fans by exiting the Graceland stage miming the bionic running motion from "The Six Million Dollar Man."